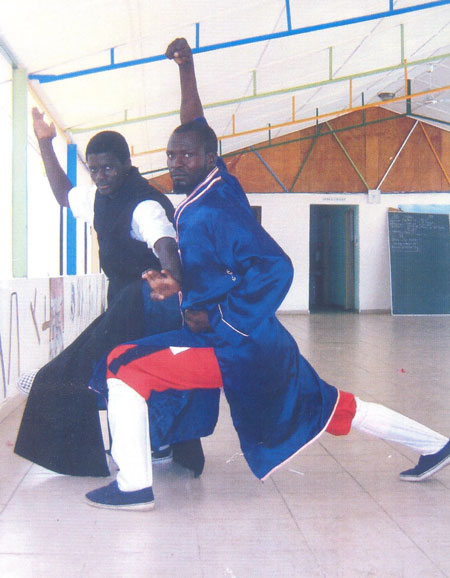 He is no doubt the most popular lad when it comes to Kung-fu in the country.
Born in Fajikunda, Ebou Sanyang is described by many, including his colleagues as a great personality with a good character who has also made a name for himself with the establishment of a Kungfu club, called Tanlang in Mandinary.
Jet Li as he is commonly known joined Dao Kungfu club in his home town of Fajikunda in 2000, where he also began his career at a very tender age and has since managed to make a name for himself, both nationally and internationally.
Jet Li was part of the Kung demonstrators that took part in a series of Kungfu demonstrations in places like Ziguinchorr, Kaolack, Binjona, as well as in Dakar with some outstanding performances to be proud of.
Sanyang, who is extremely delighted to be exposed to international standards spent 11 years in Kungfu, and accumulated a wealth of experience. He holds a black belt in Kung-fu despite his age.
He made history by forming part of the second Kungfu group to be awarded a black belt since the formation of Kung-fu in the country after 8 years of hard work.
Jet Li was part of the black belt holders to receive certificates and licence in Kung-fu, which has also confirmed his qualification to handle his own Kung-fu club.
Sanyang is feeling really great because he has achieved something great in Kung-fu that one can be proud of after years of hardship, determination as well as hard work.
Jet Li, who expressed his desire to break his way into the professional Kung-fu standard soonest could not conclude this interview without extending special thanks and appreciation to certain individuals, who have been very supportive in his strive to excel in Kung-fu, such as Muhammed Jatta, Lamin Drammeh and Joseph Y. Mendy.
He is not only good in Kung-fu, but had a good educational background with A level certificate in Law, which he did at the Gambia Technical Training Institute (GTTI) in 2009.
Read Other Articles In Article (Archive)