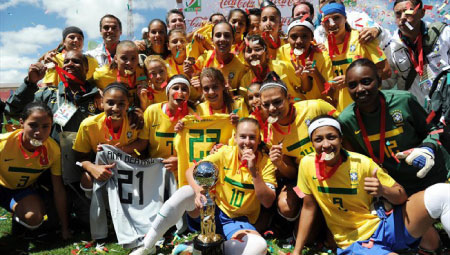 The past
After suffering the ignominy of an early departure from the inaugural FIFA U-17 Women's World Cup in New Zealand in 2008, without a single victory to their name, A Seleção Brasileira redressed the balance somewhat at Trinidad & Tobago 2010, when they reached the last eight only to bow out against then European champions Spain. A clear progression, perhaps, but expectation levels will always be high when it comes to a nation so used to footballing success and whose women's senior side regularly challenge for major honours.
The present
The continued good work put in by Coach Edvaldo Erlacher and recent positive results, allied to Brazil's traditionally strong production line for new talent, give As Canarinhas every chance of establishing themselves as a force on the world stage. Buoyed by clinching the South American U-17 title against Uruguay on Bolivian soil in March, the squad and their experienced captain Andressinha are aiming to reach the last four of a FIFA U-17 Women's World Cup for the first time at Azerbaijan 2012.
The future
The team's current run of form, and the level of togetherness achieved after spending four months training together prior to the South American competition, have filled coach Erlacher with confidence ahead of September/October's Azerbaijani adventure. "When you achieve all your objectives in such style, you can't help but feel satisfied," said the Brazil supremo.
Facts and figures
Former stars
Paula, Glaucia, Thais, Aline, Beatriz, Francielle, Raquel
Key players
Andressinha, Byanca Araujo, Brena
Qualifying statistics
A Seleção won all seven of their matches at the U-17 Sudamericano, finishing the competition with the most prolific attack (33 goals) and the meanest defence (three goals conceded). The squad's eight-goal top scorer was Byanca Araujo, who was the tournament's second leading markswoman overall.
The numbers game
2 – The number of South American U-17 titles that Brazil skipper Andressinha now has to her name, with the gifted midfielder also part of the Seleção squad that won the competition for the first time in 2010. What's more, a few short months prior to success at the U-17 event at Bolivia 2012, Andressinha was a member of the Brazilian U-20 squad that also claimed the continental crown. Fifa.com
Read Other Articles In Article (Archive)