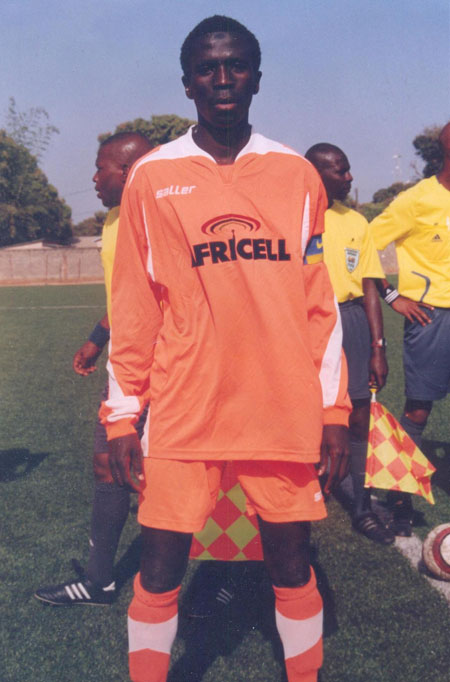 Abdoulie Mbye is no doubt one of the best and the most disciplined, hardworking central defenders in Gambian football.
He was born and bred in Bakau New Town where he started his footballing career with one of the most experienced and decorated Nawettan teams in Bakau, Linguere FC.
He made his first debut for 3 time league champions Linguere as a right back few years ago during the qualifying round of the Nawettan proper, but failed to help earn a place in the Nawettan.
Lie, as he is popularly known, switched to Saul Samba FC when Linguere was not good enough to play in the Nawettan proper where his vital second half close range strike helped Saul Samba edge pass Culture in the semi final of the Nawettan league championship but his Saul Samba side suffered a humiliating 4-0 defeat to Vietnam Border, arguably the best Nawettan team in Bakau at that time.
Aftera successful one-year spell with Saul Samba, the former U-17 and U-20 defender returned to his former club Linguere and was this time successful in uplifting Linguere to the Nawettan proper before going on to help the team win their first Nawettanleague trophy. Abdoulie Mbye was instrumental in helping Linguere win their consecutive league titles for 3 successive years including the KMC and Super Cup trophy during his stay with the Bakau giants.
He moved to the second division club Latdoir after a marvelous spell with Lingure where his valuable contribution helped the division two outfit gain promotion to the country's top flight football in his first two seasons with Latdior.
Shortly after promoting Latdior to the 1st division, Abdoulie earned a call to the popular Gambia National U-17 squad in 2006 where he proved himself as an uncompromising Central defender.
The 19 year old made his first appearance for the U17 during the Africa U17 nation's cup qualifiers in 2007.
He was also part of the U-17 team that clinched the 8 nations Peace tournament organised by the Ivorian Football Federation and also travelled with the team to another U-17 peace tournament in Tunisia under the guidance of Coach Osam Duodu.
The Africell Captain was once selected to play for the U-20 squad but could not prove himself due to a knee and muscle injury he sustained during the period.
Abdoulie Mbye has a total of nine trophies to his name and he made no secret of his intention of helping his Africell team relegated to the second division to regain promotion and back to top flight football.
He also blamed lack of enough preparation for Africell's relegation to second division.
Like most of his colleagues, the Africell Captain is eyeing a move to professional football in Europe with Chelsea as his most preferred destination. Africell's demotion to the second division sends an alert to many of the first division clubs to hire the service of the 19-year old defender.
Read Other Articles In Article (Archive)