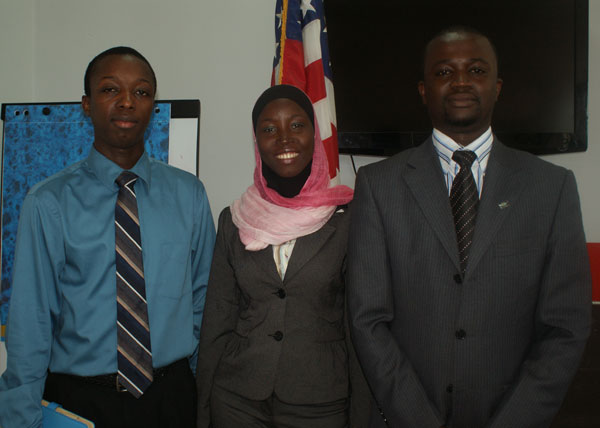 The three young Gambians who attended the recently concluded Young African Leaders Forum in the United States have stated that US President Barrack Obama has challenged them to make positive change in their respective countries and Africa as a whole.
They were among over 100 youths from across Africa who took part in the forum convened by President Barack Obama.
The three young Gambians, namely Isatou Dumbuya, a columnist with The Point Newspaper, Sana B Sarr, Client Relations and Operation Manager at Unique Solutions and Thomas Kojo Quayson, Head of Corporate Communications at Oceanic Bank took part in the forum that was held from the 3rd to 5th August in Washington DC.
Speaking at a press briefing held at the American Corner along Kairaba Avenue yesterday, Sana Sarr described his trip as a life time opportunity to meet and sit with President Barack Obama and discuss the future of Africa, especially with young future leaders.
"The forum was also a wonderful opportunity to meet with fellow Africans," he said, adding that they will utilise the knowledge gained from the forum and share with the whole of Africa, quoting Obama's saying that "African problems need African solutions."
Sarr underscored the importance of such a forum, noting that such events "will always catalyze changes in the society we live." He said he was impressed with the outcome of the forum, pointing out that the US President knows Africa's problems.
"I am impressed about President Obama. He is well informed on what is going on in Africa, and his administration is always ready to support African causes. Africa has a lot of problems which need to be solved," Sarr stated. He also added that the forum also provided a platform for networking among Africa's young future leaders.
For his part, Thomas Kojo Quayson, gave an overview of their trip, noting that the whole idea was to empower Africa's young leaders to become more responsible, and to take up challenges.
Asked whether President Obama had listened to them, and about the outcomes of the forum, Kojo said it was indeed a positive forum, with the US President listening with an open-mind and responding to questions posed to him by delegates.
He noted that they hope to contribute their quota towards national development with the knowledge gained from the forum.
Kojo also quoted Obama as saying that "the future of Africa lies with Africans," adding that the message they brought back from the White House is to network and find solutions to Africa's problems.
"Yes, the President really listened to us, and wholeheartedly answered our question. I was, in fact, part of the panel with two US secretaries of state where good recommendations on the forum were made, and we were taken seriously."
Mr. Quayson said they were also able to network and broaden their intellectual horizons, adding that the US President emphasised that the US is a catalyst, and that bringing young people together was timely.
According to Kojo Quayson, Africans should stop thinking on tribal line and focus on thinking global, noting that women's empowerment, access to capital, among others, must also top the agenda.
Isatou Dumbuya of The Point said basically the forum talked about Africa, noting that Africa was well represented at the forum.
"I personally met a man outside the White House who told me that he gave this idea to President Obama to forget Africa's big guns and concentrate on young African leaders. And am happy," Dumbuya added.
Commenting on her experience at the forum, Dumbuya stated that the aim of the forum was, among others, to learn from young African leaders in civil society and business how they are motivating youths, while highlighting for global audience a new generation of Africans who will shape sub-Saharan Africa's next 50 years.
"It was also meant to emphasise the administration's priority of mutual responsibility as the foundation of the US-Africa partnership and reinforce the US commitment to supporting African solutions to Africa's challenges, as well as help build networks between young American and African leaders that will lead to lasting partnerships," she added.
Meanwhile, the President's forum with Young African Leaders presented the US government and American friends of Africa with an opportunity to deepen and broaden their understanding of the trajectories of African societies, and to reflect on how the next generation are building their communities' and their nations' futures - just as their predecessors did in the era of independence from colonial rule.
Read Other Articles In Article (Archive)