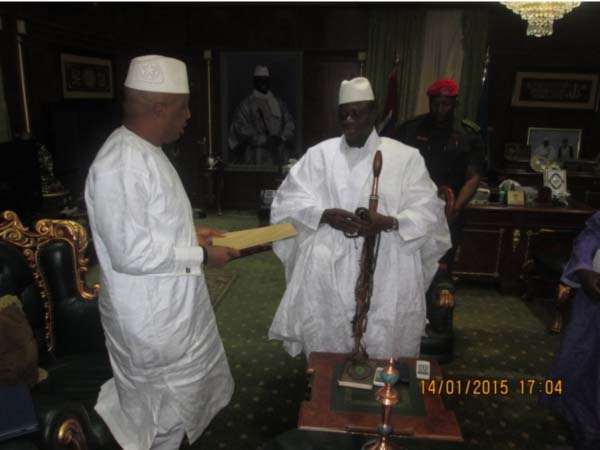 Sierra Leones's ambassador to The Gambia, Soulayman Daramy, acting under the directives of President Ernest Bai Koroma, has delivered a special letter to President Yahya Jammeh at State House in Banjul, expressing solidarity and condemning the 30 December 2014 attack on State House.
The letter, signed by President Koroma, condemned the attack, referring to it as "senseless". It went further to state that President Jammeh's transformative achievements over the years have put The Gambia on the map.
President Koroma assured President Jammeh that the government and people of Sierra Leone stand behind him, and also do pray for his good health and prosperity and that of the Gambian people.
Receiving the letter, President Jammeh expressed thanks and gratitude to President Koroma, whom he referred to as his "brother" and the entire people of Sierra Leone for their genuine concern.
According to President Jammeh, if there were just a few people in Africa like President Ernest Bai Koroma the continent would have been a better place. "He is a very sincere person," he added.
Speaking directly to Ambassador Daramy, President Jammeh said "I am very happy. This is solidarity and support at its top. Gambia will always stand by Sierra Leone as it has contributed to the socio-economic development of The Gambia," President Jammeh said.
According to the Gambian leader, the 30th December 2014 incident was not a coup; rather it was a terrorist attempt that did not succeed in whatever was their intention. He added that "As a Gambian nation, we are what we are and that is the way it's going to be," he said.
"Yahya Jammeh will continue to speak and die for the truth. I fear no one but Allah. In fact the attack has strengthened me. Crocodiles could not swallow me; even if I am in their mouths they can't close it," he said.
President Yahya Jammeh noted that Sierra Leone is rich in palm oil and granite (stones) among others and expressed his desire and that of his country to do business with the government and people of Sierra Leone. "We should really come together and engage in big time trading, instead of doing business with or rely on outsiders," he stressed.
The Gambian leader called on the sub-region to come together and merge their airlines for the region to have an ECOWAS airline.
Commenting on the Ebola virus in the region, President Jammeh referred to it as an eye opener to all Africans although it will, no doubt, be defeated as the winning signs are already evident. "Allah is great; we will overcome," he assured.
Read Other Articles In Article (Archive)