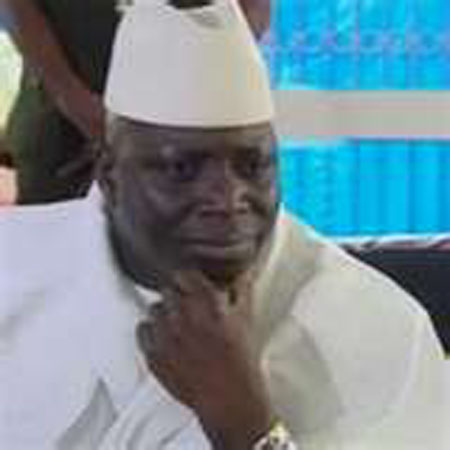 President Jammeh has stated that the offshoot of his reign will be the glorification of the Gambian nation as a whole, noting that his reign holds the promise of rapid progress for the country. He promised to transform Banjul to become a capital that would be the talk of the whole world.
Speaking at the end of Dialogue with the People tour in Banjul on Sunday, President Jammeh maintained that his government will continue to do its part towards the advancement of The Gambia, but stressed that the building of a better Gambia could only be successful through the concerted participation of all Gambian people, not by the efforts of a few persons. "A developed Gambia can only be built when all the people unite and do their best," he said.
He reiterated his call for Gambians to change their attitudes by going back to the land to farm for the attainment of food self-sufficiency. He recollected that during the transition, he had been championing national pride and self-reliance.
President Jammeh then deplored what he termed as problems within the APRC party in Banjul. He explained that some subtle opposition sympathisers have infiltrated the ranks of the APRC party, wearing APRC colours and bent on destroying the party. He advised APRC supporters not slacken their vigilance even for a moment against those sorts of people.
He added that they must not tolerate the slightest factional tendency of weakening the party's unity, but to wage a relentless struggle for party unity and cohesion and be examples in observing party discipline. He said that the party should be turned into a steel-like unit closely united with one idea and purpose.
Speaking earlier Yankuba Touray, the Secretary of State for Forestry and Water Resources and National Mobiliser of the APRC, urged Gambians to change dietary habits by turning to other foods than rice. This, he said, would reduce the demand on rice in the country. He observed that it is only in The Gambia and Senegal where rice is the staple food.
Mr. Touray revealed that D38 Million has been earmarked for farmers for the purpose of ensuring food self-sufficiency in the country. He also revealed that a new US$4 million to electrify from Banjul to Kanifing Municipal Council and US$8 million project for a port for fishermen in Banjul.
Other Speakers include Mr. Alhaji Ousman Conateh (O B Conateh), Mayor Samba Faal and Nancy Njie, the Secretary of State for Tourism and Culture.
Read Other Articles In Article (Archive)