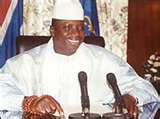 The Gambian leader Professor Yahya Jammeh has once again reiterated his call for Gambians, especially the youths, to change their attitudes and contribute effectively to national development.
The Gambian leader made these remarks last Friday at a well-attended rally held at Serrekunda West Mini Stadium as part of his nation-wide meet the people's tour.
President Jammeh lamented that his government has put in so many projects aimed at developing the country but it is mainly non-Gambians who use those facilities. We can create facilities but can't force people to use them, he said.
He revealed that the government has over the years invested over 20 million dollars in the fisheries industry but yet still the trade is dominated by foreigners. He maintained that during 'Magal' there is usually a scarcity of fish in the country. "The country will develop but it will only benefit the foreigners which is not the reason of my coming to power" he said. How can we eradicate poverty if men are not willing to work? President Jammeh asked.
On the Sheikh Umar Futiyu Siyareh, which normally took place in Gunjur Kombo South, president Jammeh condemned the Ziyareh naming a particular individual for using it as a money-making venture.
At his meeting in Gunjur on Thursday, President Jammeh has put Gunjurians to task on the issue of the said 'Kene Kene Jamengo' site, (the sand mosque) a site used for the annual ziarah in Gunjur, as a place of worship.
President Jammeh called on Gunjurians not to allow people to come to Gunjur and deceive them.
'Don't allow people to come from places to deceive you over a place naturally given to you by God. This place (kene-kene jamengo) was in existence before Sheikh Umar Futiyu came there. It was a great place before he came there. He has found this place existing if you want to go there, go for the sake of Allah and Islam," he said.
He warned people to be very careful on how they go about with religious teachings and principles.
'Be very careful about things that do not march with the principles of our religion. There is a nation in trouble, I will not mention the name, but they are suffering because they involved in issues like this,'' he stated.
President Jammeh condemned certain acts on the occasion of the Ziarah and challenged the Supreme Islamic Council to defend Islam at all cost.
"The Supreme Islamic Council must defend Islam otherwise I will do it myself. Seeing matured people swimming half naked especially women in the sea is something unaccepted in our religion and should not be allowed. I swear that if this continues, this great place will lose its credibility. I am telling you this today that if this continues for the next three years you will cry for help. I said it, don't allow people looking for fame and name to use you. Islam is a very clear religion. If you doubt my remarks just continue like this for the next three years,'' he remarked. While acknowledging freedom of expression, President rejected what he called freedom of confusion. "As the Minister for Religious Affairs I won't accept scholars misleading people," president Jammeh emphasised.
Commenting on the dead Ghanaian bodies recovered in The Gambia, president Jammeh recalled that when the bodies were recovered they were even shown on GRTS and diplomatic missions in the country were invited for viewing. He said that Ghanaians have their own community in The Gambia and have never at any time been harassed.
"I see no reason why we should kill them. We take people to court," he stressed. He said that it was in fact The Gambia who took the matter to the United Nations for investigations.
Yankuba Touray, Secretary of State for Fisheries and Water Resources, encouraged youths to acquire skills that would make them become employable and capable of contributing to nation building. He recalled on the numerous development projects initiated by the government in various areas. He called for the need for the national council for civic education to talk to people on issues that would develop the country.
Yankuba Colley, Mayor of Kanifing Municipality, also called on the residents of the area to change their attitude in managing waste to make the city clean.
Meanwhile, President Jammeh speaking to thousands of APRC party militants at the end of his dialogue with the people tour at the Arch 22nd in Banjul last Saturday has said that his government will not condone homosexuality in the country describing the act as unIslamic saying that countries allowing homosexual in their own countries will not have peace.
The Gambian leader said a man should marry with a woman, but man and man should not marry. He urged people not to entertain homosexuals in their compounds and also not to allow them to usemoney on themto operate.
He pointed out that the security of the country will never be compromised for such things.
President Jammeh stated that he is not against Gambian youths travelling to Europe but urged them to acquire the right documents to travel and avoid illegal migration.
He advised the youths to work hard in order to contribute towards national development and engage themselves in business and workshops in order to improve their skills noting  that most of the workshops in this country are managed and operated by foreigners, which he described as not a good sign for development.
President Jammeh stated that 99% of Gambian have clean hearts, that is why the country is developing despite all the food crisis facing the globe the Gambia is still surviving.
"I don't want to see any Gambian suffering whether the individual is in the opposition or not".
He has assured Gambians that time will come the Gambia will look like or more developed than Dubai.
He thanked Banjulians for their loyalty towards the government and APRC since 1994 up to date.
Other speakers at the meeting were the Mayor of Banjul Samba Faal, Aji Louise Jobe, Aji Fatou Sallah, Hon Yankuba Touray, National Mobiliser APRC, Hon Fatou Lamin Faye, Councillor Landing Sanyang among others.
At the end of the meeting president Jammeh donated 10 heads of cattle to the Banjulians for his birthday.
Read Other Articles In Article (Archive)