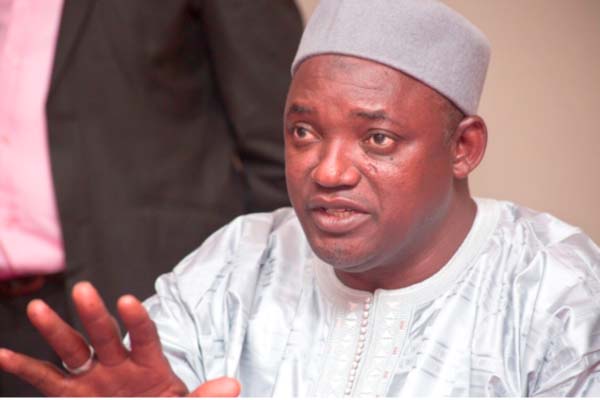 President Adama Barrow has extended the mandate of the Ecowas Military Intervention force in The Gambia by three months, subject to renewal.

This was disclosed in a press statement from the Office of the President sent to The Point last night.
The release also gave the rationale behind renaming the National Intelligence Agency as the State Intelligence Service, saying that all procedures will be followed through constitutional amendments to ensure "the change we desire for the people of the Gambia is realized".
The following is the full text of the statement from the Office of the President:
ON THE ECOWAS STANDBY FORCE
The Government of The Gambia expresses deep appreciation to ECOWAS, the AU and the United Nations for the support provided to The Gambia to ensure that the verdict of the people delivered at the polls of 1st December 2016 is upheld.
The decision made on 17th December 2016 to deploy the ECOWAS Standby Force to the Republic of The Gambia played a significant role in ensuring that the incumbent concedes to a peaceful solution of the political impasse that gripped the country through preventive diplomacy.
The Standby force is mandated to remain in the service of President Adama Barrow, the Commander in Chief of the Armed Forces of The Gambia, until the necessary conditions for the effective exercise of his power as President of the Republic of The Gambia are met.
President Barrow is glad to inform the general public that the Standby Force ECOMIG has integrated itself into the Security and Military fabric of the Country and its personnel have blended well with the Security sectors of The Gambia and are keenly sharing knowledge and experiencein enhancing national unity, peace and stability in the country.
The Standby Force has had its mandate extended by three months subject to renewal.
It could be recalled that Articles 7, 8 and 9 of the Revised ECOWAS Treaty mandated the ECOWAS Heads of State and Government to promote Good Governance and Democracy, by using mechanism for conflict prevention, management and resolution, peacekeeping and security. Thus ensuring that President Barrow was sworn into office on 19 January 2017 in conformity with the Constitution of the Republic of The Gambia.
On Detentions Without Trial
President Adama Barrow said his government is committed to reform the National Intelligence Agency, a constitutionally-established body, because its functions have been abused. It has been noted that the NIA under the former regime has not limited itself to work within its mandate, but has abused the office and instilled fear amongst citizens.
It is in this light that the government expressed intent for the change of name of the NIA to State Intelligence Service and limits its functions to intelligence gathering, analysis and advice to the relevant arms of government responsible for internal and external security of the country. All procedures will be followed to ensure the constitutional amendments to ensure the change we desire for the people of The Gambia is realized.
Source: Office of President
Read Other Articles In Article (Archive)