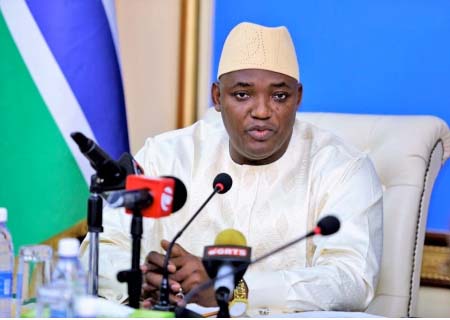 His Excellency President Adama Barrow extends his profound appreciations and heartfelt gratitude to the entire Gambian population following his successful three-week constitutionally mandated 'Meet The People Tour'.

The 'Tour' that began with a colorful parade at Banjul Wharf on Monday 18th November ended at 'The July 22nd. Arch' on Sunday 8th December, 2019 amid unprecedented joy and fanfare that characterized the entire exercise.
Therefore, President Barrow wishes to convey to the entire nation his overwhelming joy over the warm receptions accorded him throughout the tour as he crisscrossed the length and breath of The Gambia.
The Tour also offered Mr Barrow the singular honour and opportunity to see the best of Gambia as well as the the beauty and nobility of its people.
President Barrow is particularly grateful to Gambians for their peacefulness, respect for law and order, their unmatched hospitality and overwhelming humility demonstrated throughout the tour. The outpouring of support, the superb community organizations, the display of kindness and affection will remain indelible in Mr Barrow's mind even years after his Presidency.
Particularly fascinating was the finesse and candour with which communities expressed their problems and major developmental needs and how poor farmers were battling the odds after decades of independence. The poor rural roads, the absence of basic necessities of life and the tenacity of Gambians amid deprivation were equally humbling to President Barrow and his entire entourage.
Mr Barrow wishes to register his utmost appreciation for all the kindness extended to him and his entourage. The President is equally grateful to the entertainers, the numerous fan clubs, the Councils of village and community elders, religious leaders and the various security apparatuses and Press Corps for their hard work, discipline and demonstrated love for country.
Accordingly, President Barrow urges the entire nation to remain steadfast in our effort to build a better and more peaceful, democratic and prosperous country that will remain an envy not only to our subregion but the world entire.
Signed,
Ebrima G. Sankareh
The Gambia Government Spokesperson
Read Other Articles In Article (Archive)