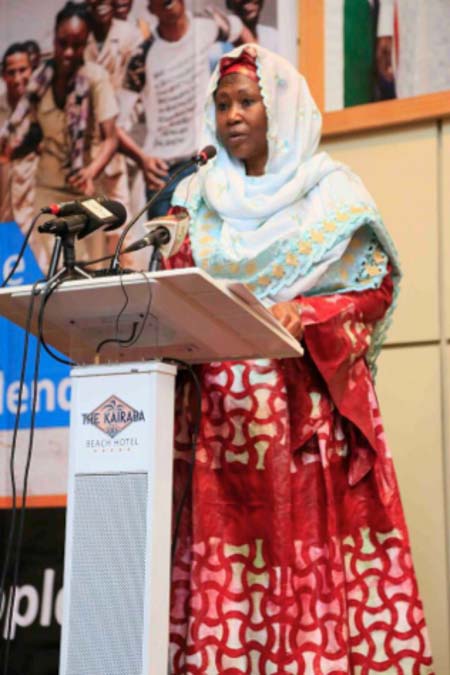 Fatoumatta Jallow-Tambajang, women's affairs minister who also oversees the Office of the Vice President, has said that the Barrow government is putting up strategic plans to address the plight of young people in the country.

She made this statement while presiding over the launching of the AU roadmap on harnessing the demographic dividend through investment in youth on Friday at Kairaba Beach Hotel.
"Government is quite alarmed at the rate at which young people have been leaving the country through the 'back way' when they should be here helping in the development of their fatherland," she said. "Unfortunately, the lack of quality education, employment opportunity and articulated hope for the future continues to fetter this menace. This has attracted special attention and we are working with partners to address the problem."
She said in order for The Gambia to benefit from her large youth population and to ensure economic growth, the government is committed to working on the four pillars of the AU roadmap: employment and entrepreneurship, education and skills development, health and well-being, and human rights, governance and youth empowerment.
"Government will make strategic investments in these areas to ensure that our young people are enabled and empowered to achieve their fullest potentials," Madam Jallow-Tambajang said.
She pointed out that a consultative committee comprising critical stakeholders in government, civil society, young people, development partners and other important stakeholders will be constituted to operationalise the AU roadmap in The Gambia.
She noted that the guidance of the consultative committee would be of critical importance in ensuring that the country effectively implements the roadmap.
"I wish to assure you our young people of the unwavering commitment of the government to your empowerment, development and well-being," Madam Jallow-Tambajang said.
"This commitments starts with working assiduously for the realisation of the objectives of the roadmap we launched today."
She commended the UN system in The Gambia, particularly UNFPA, for supporting the development of the roadmap for Africa.
She expressed the government's condolence to the UNFPA family for the demise of the agency's executive director, Dr Babatunde Osotimehin.
"Africa has lost an illustrious son who has immensely contributed to the betterment of the lives of women and children of the continent," she said.
"I am confident that his legacy will continue to live within the organisation. May his soul rest in perfect peace, Ameen."
Read Other Articles In Article (Archive)