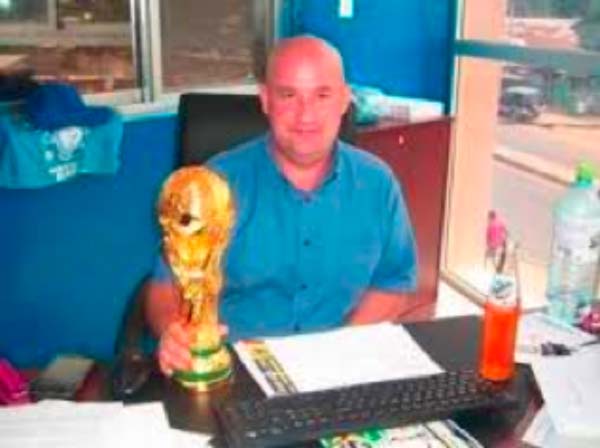 John McNally chief executive officer of Premier Games has described his company's 12 months operation in The Gambia as "fantastic".
Speaking to Pointsports yesterday at the company's head office along Kombo Sillah Drive, as part of events marking Premier Games' one year anniversary in The Gambia, he added that they have accomplished a lot in the 12 months, but still have a lot more to do.
Their achievements include working with the Gambia Federation of the Disabled by providing employment and opportunities for them and youths in general, he said.
Premier Games currently employs just under 500 people, who are directly receiving money from the company, he went on, further describing this as another achievement.
They are also working closely with the Gambia Football Federation (GFF) and the National Sports Council (NSC), and have sponsored the Super Nawetan, Super Cup, a number of wrestling combats as well as nawetan teams in various zones, according to McNally.
"We have done quite a lot in a year, but this is just the beginning for us. We've got a lot more to do. We will get more and more involved with many things coming up soon, not just in football," he added.
The Premier Games operations manager said he had the pleasure to meet Africa's best referee, Bakary Papa Gassama, last week and they will be meeting today Wednesday to look at how they can work with the referees' association to provide them with more facilities, training and everything regarding Gambian football development.
"We will shortly be sponsoring the Super Nawetan again this coming year," McNally further announced, and described the recently-concluded edition as "a fantastic success."
Premier Games is also working on technical directions with GFF and NSC "as to where their recommendations are to make sure we are tying in with their plans on development of Gambian sports."
"You will definitely see Premier Games getting involved with other sports in the coming weeks," McNally told Pointsports. 
"I would love to see some of our local teams getting further and further in international competitions and hopefully bring on more rising stars not just in football but all sports."
Premier Games have upgraded pitches in some of the countries where they operate across West Africa, and McNally said providing equipment and other facilities is also in the pipeline for The Gambia.
"It is investment in people, but also in the infrastructure and the background that goes with it," he went on, adding: "You will see us getting involved in getting better structures, facilities and other things to see sports going forward in The Gambia."
They had a great response from the country during their first year of operations, announced, describing operating in The Gambia as "an exceptional pleasure."
They have been very fortunate to have help from the government and regulatory bodies, he further highlighted.
There are always challenges to overcome when operating, but working in The Gambia "is fantastic, very safe and secure," he continued, and described the challenges they encountered over the year as "very minimal."
"The crime rate in The Gambia is virtually zero", he said, and in conclusion thanked all their customers, the staff and the government for allowing them to operate in the country.
Read Other Articles In Article (Archive)