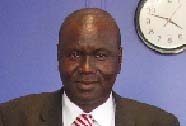 At least 20 police prosecutors and investigators were over the weekend trained on Criminal Delivery System, at a seminar held at the Legal Capacity Building Project Office in Banjul.
The seminar offers good number of police prosecutors and investigators a unique education to enhance effective justice delivery system in The Gambia.
The topics discussed include criminal prosecutions (preparatory and trial stages), presiding over a criminal case, defending a criminal case, the rights of the accused person, the role of an investigative police officer and challenges of police prosecutors.
The seminar was facilitated by experts from key sectors of the legal system.
The training seminar was organised by the Legal Capacity Building Programme (LCBP), with funding from the UK Department for International Development (DFID).
Mr. Sanna Dahaba, LCBP Phase II Project Co-ordinator explained that the objective of DFID's support is to ensure that the Gambian legal system is strengthened through the introduction of incremental reforms that would improve efficiency and effectiveness, adding that this will better ensure access to justice for the poor.
"This training seminar is to develop the capacities of the police prosecutors and investigators through providing continuing legal education that will enhance effective justice delivery in The Gambia," he stated.
Mrs. Awa Bah, the Acting Solicitor General, emphasised that the interest of the state is to see to it that justice is achieved. She added that her department is faced with lots of challenges, but noted that they are trying to ensure that not only justice is done but seen to be done.
She lauded LCBP and DFID for supporting the programme.
Speaking at the opening of the seminar, Richard N. Change, the Director of Public Prosecution, called on police prosecutors not to be corrupt.
He advised them not to take a bribe of any sort.
He posited that they must be seen as prosecutors and not persecutors. He maintained that prosecutors must not bend at securing conviction at all cost, noting that they must be fair to the accused persons by observing their rights.
He added that they must not arrange with witnesses to go and tell lies to secure conviction.
While advising the participants that cases often collapse in courts because of untruth, he urged them to always stand for the truth and obey court orders.
Speaking at the end of the seminar on Saturday, Justice Edrissa F. Mbai advised the trainees to make the best use of the knowledge gained and share with others who have not been opportune to attend the session.
Read Other Articles In Article (Archive)