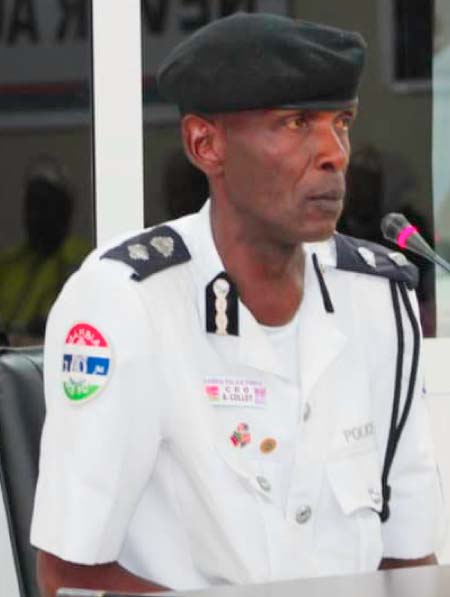 Chief Superintendent Abdou Colley of The Gambia Police Force (GPF) has on Monday disclosed to the truth seeking commission that three GPF officers were allegedly identified as witches, caused anger and isolation among them in 2009.

He said when that happened, they were all angry but couldn't do anything because it was an instruction, adding some of the alleged identified witches were left desperate and isolated.
The GPF's chief disciplinary officer explained that he started working for GPF in1979; adding in 2009, he briefed his men in the morning and he never had any information of what was to happen that day.
"After the briefing and we all went to our respective officers. Around 11 a.m., six marabouts with their red clothes, caw horns, mirrors and holding caw-tails came to the police headquarters. They came with some soldiers and other plain-cloth officials; one among them I recognised was Solo Bojang," he testified.
The witness who worked more than 30 years with the police, said as he was in his office that morning, someone told him that there were marabouts who were going around in offices with the then IGP Ensa Badjie.
"I went out and met with them and I went round with them as well. Any office they go, they would be around and if they didn't see anything, then they would go. They came to my office and nothing was found. After the round, some people were identified and IGP asked me to call for a fall-in to identify the pointed individuals as witches."
The witness, however, indicated that he didn't believe in witches and he didn't think those alleged should be identified in public. He said that can make the person die untimely and the Islamic teachings do not allow such.
At the parade, he continued, that the marabouts used their mirrors to identify Chief Superintendent Yaya Darboe, Sgt. Mustapha Ceesay and Kumba Jatta as witches.
"Kumba was identified in his office and the marabouts told him that there was a chain in his right pocket and he should remove it, which he did. He was also asked to undress and there were other chains that he was asked to untie and other jujus that were under-covered."
The witness further testified that from there, they had a goat and a cock that were tightened to a tree near the parade ground, saying they slaughtered them and buried the blood and went with the meat.
"An instruction was given by IGP that anybody identified should go with them. He said if anyone fails, he would be disciplined or demised. It was only Kumba that went."
He said that he later learned that anyone who was taken there was given concoction to drink.
He said nothing happened to Yaya; and Mustapha was disciplined by transferring him at Gambia's last police station in Fatoto.
At his concluding remarks, witness called for peace and togetherness to build a better nation.
Read Other Articles In Article (Archive)