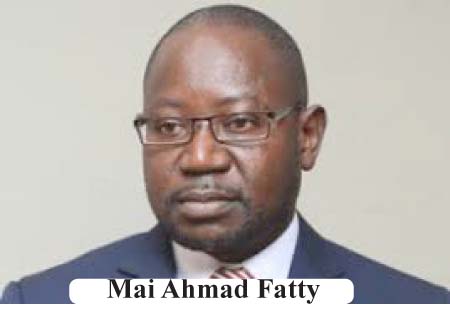 Mai Ahmad Fatty, former special adviser to President Adama Barrow said if 3 Years Jotna is denied to protest; he will represent them in court.

It is their constitutional right to demonstrate and nobody can deny them that; but my party would not come in support of them, Mr. Fatty declared.
He said he is committed to representing the protesters in court because it is their constitutional right to protest.
Mr. Fatty said president insists on his mandate of five years which is supported by the constitution; however, the right to peaceful protest is also defended by the constitution.
He said the president should have consulted the coalition before he could have made his declaration so that the coalition would come together and endorsed his position if they were convinced.
"It should not be the coalition going to the president. That was why we do not support a process where the coalition is organising itself to go and beg the president to continue with the five-year because that is anomalous and GMC will not stand for that. We believe it should be another way around," he said.
Meanwhile, Mr. Fatty said his party seeks to make the issue of morality prominent so that when they practice politics with morality, honesty will become a creep in the civil service that corruption will be limited.
He said people will indeed be in sense of purpose and sense of morality and politicians will stick to their commitment "these are the sort of issues we are lacking in our politics today.
Mr. Fatty, who resigned as Barrow's adviser last month said he believes the reason why most Gambians look low upon politics is because politicians are considered corrupt, liars, cheats or those who change their statements or commitment as it convenient to them.
He said it is because of these reasons that a lot of people do not want to get involved in politics. "The reason is we do not have morality as part of a content of politics."
The GMC came into existence in order to take the issue of morality at the heart of the political debate so that issues of honesty, integrity, hard work and values would be crystal clear and our politics will be dictated and policies will be influence by principles of morality, he said.
"Our party purpose is to change that dynamic and then prove that we can indeed practice politics with morality and this is the message we took along to Europe but also our vision for providing real solution to the challenges our Gambia face."
He said GMC has been very active during the days of the dictatorship, they were trying to create consensus among Gambians and friends of The Gambia against the dictatorship.
He said his trip is post dictatorship, pointing out that the purpose of the trip was to engage the Diaspora on GMC enduring values and to share their message of progress of inclusivity and development around the world.
"We need to invest in the productive sector, to make sure The Gambia is food secure because when people are hungry, the incident of poverty becomes heavier and GMC has a plan to provide food security for Gambian people."
Health care is a problem in The Gambia, reproductive situations are terrible so many diseases that can easily be cured even to have experts is a problem; GMC has a plan to transform the educational system in the country because access and quality are very important in education, he said.
He said it is education that is going to breach the gap between the poor and the rich "we most train Gambians not only to compete with citizens in the country but across the world."
Read Other Articles In Article (Archive)