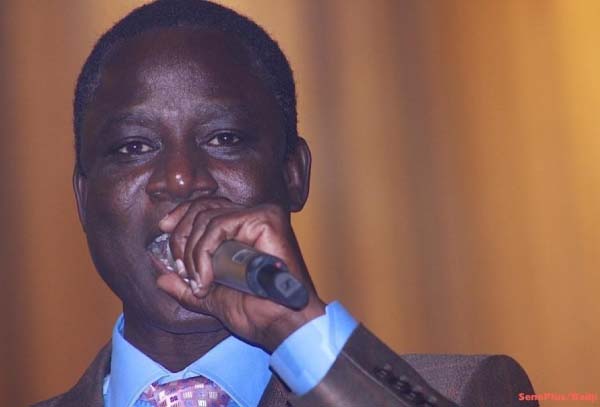 Police in Senegal have revealed that they started to monitor Thione Seck and his three friends, following a meeting they had at one of the Elton fuel stations in Dakar, where Cherif Sakho, Ablaye Djiteye and Thione himself used to meet.
At the meeting, according to the police revelation, "the Ace", Chérif Sakho (alias Dou) and Thione Seck were presented to one Malian who would counterfeit money.
The police said they received a tip-off about the project of the singer and his colleagues, and went after them.
The police, together with gendarmerie officers, then went to the home of Thione in West Foire and strategically positioned themselves.
After a while, the Malian, Ablaye Djiteye (aka Derrick), and Cherif Sakho arrived in a white vehicle at Thione's compound. The singer then came out and exchanged something with the two men. Then after a brief chat, the two men left.
Two gendarmerie officers followed the car of the two men with a motorbike.
Chérif Sakho alighted at one of the shops along VDN Street. The gendarmerie officers still continued to pursue the car. At some point, the driver was stuck in the traffic and the officers took that opportunity and arrested him.
They searched the vehicle and discovered a bag full of fake dollar notes in addition to several kinds of bottles containing liquids which they used to forge money.
They then went to the home of Thione Seck and discovered a black bag containing forty three packages each containing a million euro counterfeit notes.
The gendarmerie officers also attempted to seize two green belts that Thione Seck kept in his pocket, but he (Thione) wanted to throw the belts out through the window.
In addition to the fake euro notes, a total of CFA32,901,250 in good currency notes, were also found in Thione's house.
Meanwhile, another group of investigators raided the home of Ablaye Djiteye, near the Leopold Sedar Senghor Stadium.
The investigators then went to where the Malian had been forging the money. He, the Malian, wanted to bribe the police by offering them a huge amount of money. The police did not take the offer.
Inside the Malian's apartment, they discovered five printers, reams of white paper and a half container filled with a liquid like mercury.
After a thorough search, the police found 230,000 euros in counterfeit notes and CFA 8,480,000 francs and 2,050 euros in good currency notes.
The Malian then confessed and explained their modus operandi. Thione Seck and Ablaye Djiteye were finally arrested and put in prison. The police are still looking for Cherif Sakho, who is at large.
Seck was charged together with his Ivorian accomplice for money laundering, economic crime, obtaining money by false pretence, and racketing. The case is scheduled to be heard in due course.
Source: Seneweb News
Read Other Articles In Article (Archive)