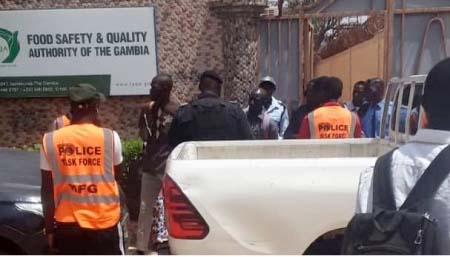 Over a dozen of sacked staff of Food Safety and Quality Authority (FSQA) were Tuesday arrested by police in defiant of their sacking, The Point has been reliably informed. They were taken to Kairab Police Station.

The arrest followed the sacking of multiple staff early this year after they had filed a petition against Director General Zainab Jallow and organised a press conference in January, which authorities say was illegal. However, a source who is familiar with the matter told The Point on Tuesday that the arrested staffs have since been coming to the office in defiance of their sacking on the grounds that it was "illegal."
"These staff felt that their sacking was illegal because the due process was not followed," our source said.
The firing of the staff followed a press conference organised in January this year by the staff who demanded better working conditions.
Recall: Last year, a greater percentage of the authority's staff filed a petitioned to their board against Zainab but the board through their independent panel said they had limited powers over DG Zainab Jallow.
Staff members requested the findings made by the independent panel, but it proved futile.
The Food Safety and Quality Authority of The Gambia was established by Food and Safety Act 2011. It is the sole authority with powers to control food and feed in the country.
Read Other Articles In Article (Archive)