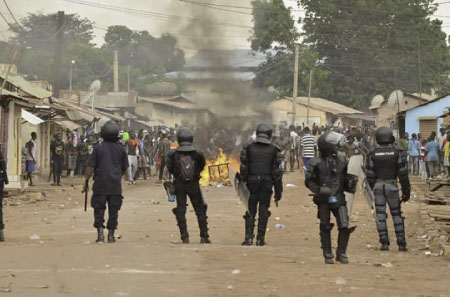 (Issued Monday 21 January 2020)
A combined security patrol team including the anti-drug agency has been accused of manhandling some seven people in Central River Region (CRR) village of Bagadaji Toro and used teargas on them after conducting a raid in a compound.
The seven said they recognised some of the officers from Bansang, Kuntaur and Kaur police stations.
One of the victims, Adama Camara said he was the first person the police used teargas on when two pickups of officers came to their compound and surrounded the place. "I asked them what happened and they told me to lead them into my house without telling me what happened."
He said while in the push and pull with the police in their attempt to hand cuff him, they decided to use teargas on him.
A source who wants to remain anonymous said one of the officers who was dressed in mufti came to the kitchen with teargas and said he would kill all of them. According to the source, another pregnant woman complained of being kicked on her stomach by one of the officers.
According to them, a girl was chased by one of the officers with a cutlass while another lady accused the security men of beating her with a heavy stick. The wounded ones are reported to have been taken to Kuntaur Health Centre for treatment.
Officer in-charge of Kuntaur Health Centre, Ansumana Saidy confirmed that some people from Bagadaji Toro came to the health center with complaints of being tear gassed and beaten.
He said he could not confirm that they were beaten and tear gassed by the police but the station officer of Kuntaur Police Station had come to the health center and taken the names of the wounded persons.
Adama had accused that they were also beaten at the Kuntaur station before they were taken to Kaur police station where they spent a day.
Attempt to speak to the Kuntaur police station head proved futile as he was referred to contact the police spokesperson.
Read Other Articles In Article (Archive)