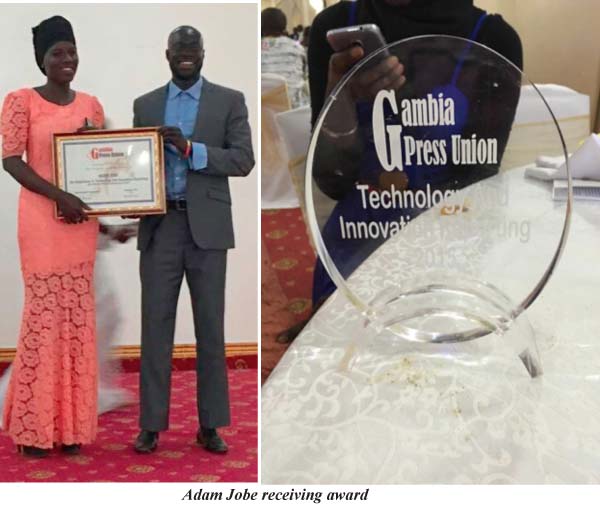 The Point's reporter Adam Jobe has won the Technology and Innovation Reporting Award of the year 2015, at the Gambia National Journalism Awards event organised by the Gambia Press Union (GPU).
The National Journalism Awards, the first of its kind in The Gambia, was held on Saturday night at the Njembe Beach Hotel in Kololi.
The journalism awards programme has been initiated by GPU to spur competition for good writing among journalists in The Gambia.
The programme is part of the Gambia Press Union's annual commemoration of World Press Freedom Day.
Its aim is to honour courageous and hardworking journalists whose work influences positive transformations in the country, while enhancing the journalism profession.
Prior to declaring the award winners, a Code of Conduct for journalists in The Gambia was launched at the event by the GPU. Mr Malick Jones, deputy permanent secretary at the Ministry of Information and Communication, officiated the launching of the handbook of the code of conduct.
The awards event, which brought together media practitioners and friends of the media, involved 12 categories.
The Sport Reporting Award was won by Sulayman Bah of Foroyaa newspaper.
The Environment Reporting Award was won by Rohey Bittaye of the Gambia Radio and Television Services (GRTS TV).
The Features Writing Award by Mustapha K. Darboe (former reporter of Standard Newspaper)
The Technology and Innovation Reporting Award by Adam Jobe of The Point.
The Women's Reporting Award by Sarjo Camara –Singhateh (of Foroyaa)
The Travel & Tourism Reporting Award by Sise Sawaneh of the Gambia Radio and Television Services (Radio).
The Agriculture Reporting Awards went to Ebrima Baldeh of the GRTS (TV) and another for Modou Joof of Voice newspaper.
The Human Rights Award went to Mustapha Jallow of Foroyaa newspaper.
Other special awards were given to a doyen of the Gambian media, Swaebou Conateh, and the Games Journalism training project representative in The Gambia.
In receiving her award, reporter Adam Jobe thanked the GPU School of Journalism and The Point Newspaper for their support over the years since she joined the journalism profession.
"This is a great achievement for me," Ms Jobe said.
She thanked The Point Newspaper management for allowing her to take part in the competition, and gave special thanks to her editors Ousman Kargbo and Lamin Jahateh, who encouraged and supported her to participate in the competition.
Ms Jobe also thanked her family and friends for the support, saying:"I am sincerely grateful to God for giving me such loving family and friends."
Read Other Articles In Article (Archive)