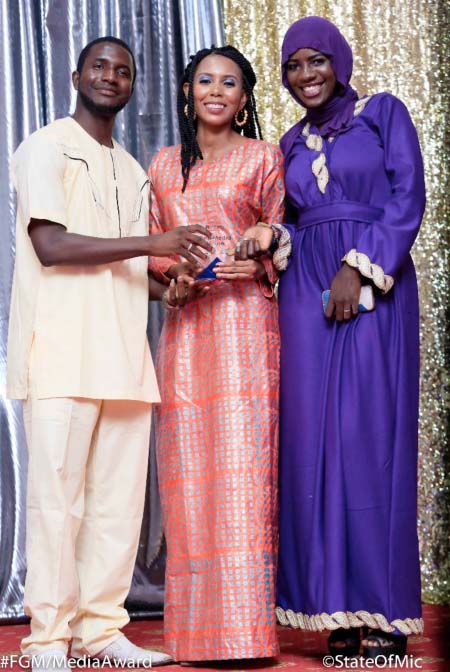 The Gambia's leading independent newspaper has been awarded the 'Best Print Media' and 'Best Media House' awards at the 2017 End FGM Media awards organised by Safe Hands for Girls at Djembe hotel Saturday.

Established by Pap Saine and the late Deyda Hydara some 25 years ago, The Point's awards were in recognition of the paper's contributions in sensitising, changing perceptions, providing support and even saving a child from going through the procedure of female genital mutilation (FGM).
Receiving the award on behalf of the newspaper's management, Lamin Jahateh, acting editor-in-chief, expressed delight, saying he was honoured and humbled to receive double awards in one night.
The Point newspaper, he said, has been playing crucial role in the promotion of women's rights and welfare, particularly in demystifying the notion that FGM is Islamic or it has any social or health benefits to women.
"I consider FGM to be the most barbaric practice that a woman performs on a fellow woman," he said, adding that with the support of the management, The Point would continue to stand for the rights and welfare of women, including the girls.
Mr Jahateh said The Point would continue to raise the bar higher in terms of reporting on issues that are inimical to the growth and development of women.
He thanked the entire editorial staff of the newspaper, especially Halimatou Ceesay, the anchor of the women's column, for the good job that made it possible for The Point to win the awards.
The Point co-publisher, Pap Saine, also expressed delight about the awards, saying "I thank Allah and my staff for winning awards in the fight against FGM, this is a big honour for me and my staff".
He said the awards would further motivate The Point to work harder and also maintain its leadership in the print media in The Gambia.
"We will continue to always educate the public on issues geared towards their development; we will always fight against FGM and educate the public as expected," he said.
Adam Jobe, a staff of The Point, said the awards did not come as surprise to her because "the paper has worked immensely in the fight against FGM since the onset".
"The awards are clear manifestation of The Point's commitment in promoting the health and welfare of women, especially putting on the spotlight the harmful effects of FGM," she said.
Last month, The Point was awarded by the Banjul Muslim Elders for its role in the promotion of Islamic activities.
The paper has won four international awards on press freedom: in 2006 in Germany, in 2014 in Australia, and in South Africa and Zambia.
Read Other Articles In Article (Archive)