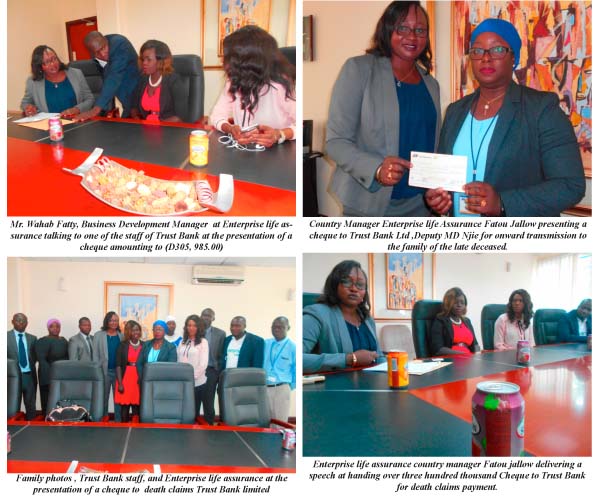 Enterprise Life Gambia Ltd the leading life insurance company in the Gambia on Thursday 6th July 2017 paid another death claimed to the Trust Bank Gambia limited.

The cheque that was at a tune of GMD305, 985 (three hundred and five thousand dalasi nine hundred and eighty five butut) was meant for the family of the deceased through Trust Bank Gambia limited.
The presentation that was held at the conference hall of Trust Bank and was attended by both staff of the Enterprise Life and Trust Bank Gambia limited.
Speaking at the presentation ceremony, the deputy Managing Director Trust Bank Gambia Limited Njilan Senghore Njie said today's presentation is with a mix feelings, as one of their colleagues who is dear to them has pass away . She stated as an institution they always serve the interest of their employees whether dead or alive and this is the reason why they have taken a group life policy with Enterprise Life. She reiterates the fact they have lost great colleague who has judiciously served the bank. She went ahead to inform the gathering they cannot compensate life but they will continue to mourn and pray for the departed soul. She commended Enterprise Life for the timely payment of the claim and stressed that their partnership will always be strengthened.
Speaking at the presentation ceremony the Country Manager Enterprise Life Ms. Fatou Jallow said the objective of the group life plan which Trust Bank has taken on behalf of their staff is to provide employment benefits to their employees by assuring them that in the unlikely event of death, a multiple of their annual salary will be provided to their spouse and children as replacement income to cushion the effects of death. MS. Jallow further highlighted that the group life policy has tops-up that can be taken in addition to the main policy that is personal accident which includes: permanent disability cover, temporary disability cover and medical expenses cover.
The Country Manager of Enterprise life also commended the management of Trust Bank for choosing Enterprise Life group life policy. She also used the opportunity to pray for the departed soul. Fatou said other institutions should emulate Trust Bank in taking the group life policy to ensure their staffs are covered unlikely event of death.
Other speakers include head of operation and also business and development manager enterprise life who all spoke extensively about the commitment of their company I ensuring that they settle death claims.
Read Other Articles In Article (Archive)