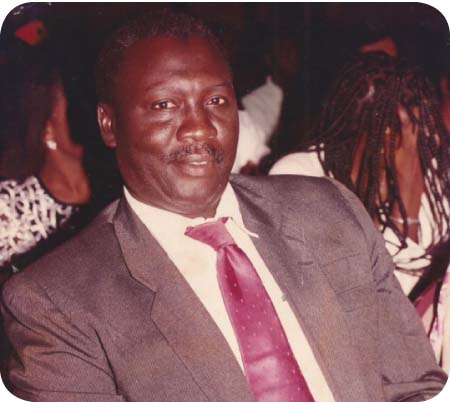 The Point's Managing Director and Co publisher, Pap Saine, who is also the Dean of Reuters Correspondents in West and Central Africa and a World Press Freedom Hero, left Banjul yesterday for South Africa to attend an IPI Book Launch in honour of Mr. Saine and nine other African Press Freedom Heroes.
The book, entitled "Celebrating Freedom: Two Decades of Evolving Media", was compiled and published by the International Press Institute (IPI) based in Vienna, Austria.
IPI, a Vienna-based Global Network for a free media in over 120 countries, is dedicated to the furtherance and safeguarding of press freedom, the promotion of the free flow of news and information and the practices of journalism.
The IPI World Congress, which will be held in Cape Town, South Africa, from 12 to 15 April 2014, is expected to gather over 300 leading representatives from the worlds of media, politics, business and academia.
The ten World Press Freedom Heroes of Africa, in whose honour the IPI Book will be launched, are Pap Saine, Managing Director and Co-Publisher of The Point newspaper and a long-time Reuters correspondent for West and Central Africa (The Gambia); Omar Belhouchet, Director of El Watan (Algeria); Pius Njawe, Editor of the independent weekly Le Messager (Cameroon); Freedom Neruda, former Editor-in-Chief of the leading independent newspaper La Voie (Ivory Coast); Kenneth Best, Founder of the Daily Observer (Liberia); Gwen Lister, Founder and Editor of the independent newspaper The Namibian (Namibia); Gremah Boucar, Director of Radio Anfani and Publisher of Anfani newspaper and magazine (Niger); Andre Sibomana, Former Editor of the newspaper Kinyamateka (Rwanda); Laurence Gandar, Former Editor of The Rand Daily Mail (South Africa); Raymond Louw, Former Editor of The Rand Daily Mail and Editor and Publisher of the Southern Africa Report (South Africa); Percy Qoboza, Former Editor of the World and the weekly City Press (South Africa) and Fred M'Membe, Managing Director and Editor-in-Chief of the privately-owned newspaper The Post (Zambia).
It would be recalled that Mr Pap Saine received the World Press Freedom Hero award in September 2010 in Vienna, Austria, from IPI at its 60th Anniversary in recognition of his courage and dedication to the principles of freedom of opinion and expression.
Mr Sainealso received an award, in 2006 in Germany, for promoting Press Freedom and Democracy by the Philip Palm Foundation.
In 1988, Mr Saine won a quiz competition on African football at the 16th African Cup of Nations held in Morocco, for which he received an award.
Mr Saine, who has served as Press Officer at the Confederation of African Football (CAF), has covered many political and sports events on the continent, including 16 African Cup of Nations tournaments and three World Cup tournaments, as well as the Olympic Games.
After the IPI Book launch in South Africa, Mr Saine will proceed to Zambia at the invitation of Mr Fred M'Membe, Managing Director and Editor-in-Chief of the privately-owned newspaper The Post, which is a leading paper in Zambia. Mr M'Membe was also a World Press Freedom Hero in 2000.
Mr Saine is expected to be honoured by Zambia's Post newspaper, a leading and vibrant newspaper in the southern African country.
Before leaving for South Africa, Mr Saine said: "I feel humbled to be honoured by IPI and my colleagues, and by The Post newspaper.
"I would like to thank the Almighty Allah for giving me this opportunity to be recognised internationally. I also want to thank IPI for awarding me for the second time, The Post of Zambia for honouring me, Mrs Maria Hydara my partner in business, the Management and Staff of The Point Newspaper, my wife, friends, our dear readers and advertisers for their ceaseless support over the years. The honour is not only for me, but also for all Gambian journalists.
"I also want to take this opportunity to advise young journalists to be committed and dedicated to their job, and to do it professionally."
Read Other Articles In Article (Archive)