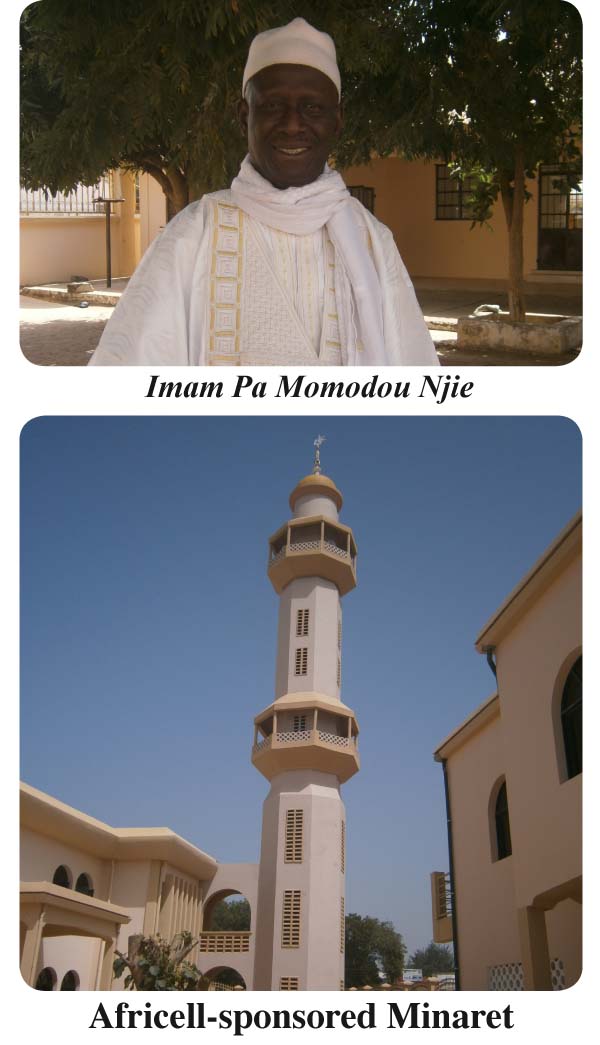 The Pipeline Mosque on Friday inaugurated its new 33.35 meters minaret, reportedly sponsored by Africell GSM Company to the tune of D1 million.
The erection of the concrete minaret took three years, and was done without using cement blocks, so as to ensure its solidity, said Imam Alhaji Pa Modou Njie.
The minaret serves as a symbol of Muslims' prayer grounds throughout the Muslim world, added the imam.
During the time of the Prophet of Islam, who constructed the first Islamic mosque in Medina, there was no minaret.
The attachment of minaret on a mosque was introduced during the time of Saidina Ousman.
The caller to the Muslim prayer would climb the minaret call the faithful with his voice, and the minaret ensured it could be heard by Muslims from a distance.
The imam further pointed out that the significance of the minaret in Islam, is that it serves as an identification landmark for a mosque.
The inauguration ceremony brought together members of thePipeline Mosque committee, representatives of Africell and invited guests. The imam thanked Ms Marie Mbye, an engineer, for facilitating the construction of some structures within the mosque premises such as the library.
He appealed to Muslims to emulate the donors to his mosque, and help in the spread of Islam.The event was chaired by Mam Sait Njie, who is the chairman of the social committee of the mosque.
Alhaji Abu Dandeh Njie, the president of the Pipeline Mosque Foundation, who approached Africell for funding the minaret, thanked the management of the GSM company for their timely intervention. He said he and Matarr Jobe chairman technical community, pipeline mosque were delegated to contact Africell for the assistance.
He also thanked all those who contributed through the provision of cement, basalt, sand and other construction materials such as Amadou Samba, Lamin Gaye and Akim Samba, among others. Papa Leigh, Africell's Director of Corporate Affairs, attended the ceremony, and expressed delight in the investment, noting that it is a great thing in Islam to construct a minaret.
Leigh commended the mosque committee for taking proper care of the Pipeline Mosque, and announced that Africell has been investing in the promotion of Islam.
"Investing in Islam is one of the things that one can do and have no regrets in doing that," he declared. 
Read Other Articles In Article (Archive)