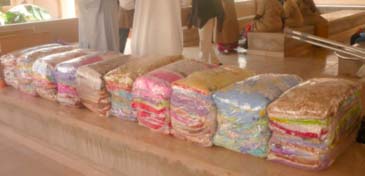 Pipeline Mosque Foundation last Thursday donated 550 bed sheets to nine hospitals across the country at a presentation ceremony held at the Serrekunda General Hospital.
The materials valued at D500,000 were donated to Serrekunda General Hospital (100 bed sheets), Edward Francis Small Teaching Hospital (100 bed sheets), Tanka Tanka (Mental Home), Brikama Health Centre, Bansang Hospital, Soma Hospital, Bwiam Hospital, Sheikh Zaid Eye Clinic (Serrekunda Hospital) and Fajikunda Health Centre each 50 bed sheets.
The foundation also donated a cheque for D30,000 to the Serrekunda General Hospital mortuary as well as two new wheelchairs and one walker to the hospital.
Speaking at the presentation ceremony, Saidu Beyai, CEO of Serrekunda General Hospital, recalled the several forms of support the foundation had rendered to the health sector over the years.
He added that the foundation over the years had supported the hospital not only with materials and finance but also with human resources.
 He also prayed to Allah to abundantly reward the foundation for their goodwill gesture.
 Alh. Mustapha Saine, on behalf of Hospital Management Board Chairman, said the foundation's "foresight is beyond the thinking of man", for which he thanked them.
He said the foundation, whose "members are visionaries", is always in the business of helping humanity.
Dodou Jagne, vice president of the foundation, said the gesture is becoming a tradition, noting that hospitals are doing a lot in saving people's lives and as such should be supported.
He pointed out that the number of patients had been increasing in hospitals, which is why government should be complemented in meeting their requirements.
He said they would always pray to Allah to continue to give them the strength to help and share with others.
He also thanked their sponsors and donors as well as their welfare committee chairman Mam Sait Njie, for their tireless work and support of the foundation's mission.
Baboucarr Saine, Hospital Administrator at Bansang Hospital, who gave the vote of thanks, said a healthy nation is a wealthy one. Although it is expensive to keep a nation healthy, he noted.
He said that under the leadership of President Yahya Jammeh, the country had registered significant gains in her health sector but government alone could not do it all. He therefore commended Pipeline Mosque Foundation for the gesture.
He assured them that the materials would be used for the rightful purposes.
Alieu Badjie, PRO of Serrekunda General Hospital, chaired the occasion.
Read Other Articles In Article (Archive)