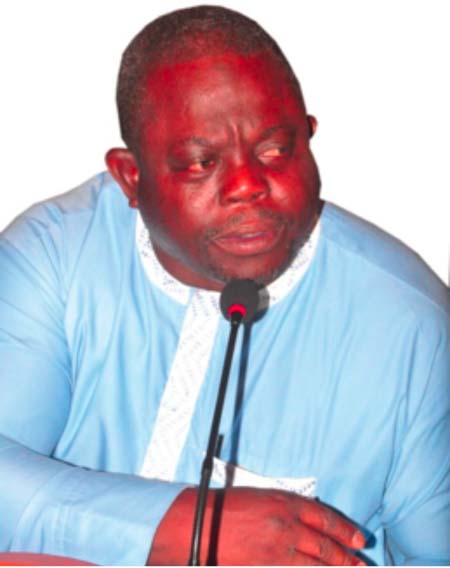 Dr Aboubacarr Senghore, Minister of Higher Education, Research Science and Technology (MOHERST), has said that no country can have a sustainable development in the absence of proper research.
Minister Senghore was speaking in his ministry's conference room recently, during a presentation ceremony of funds amounting to 30,000 to the ministry's Directorate of Research by the Social Security and Housing Finance Corporation (SSHFC).
He said for a country to develop sustainably proper research has to be conducted, and this was why MOHERST, with the help of the government, embarked on a massive sensitization and capacity building campaign nationwide.
"My Ministry consists of the engine of government, because there is no country where you can have a sustainable development if the capacity of her people is not built.
"I think with our massive capacity campaign and the government continued support in providing quality education we will surely meet our targeted goals."
He further said the main priority area of cooperation for MOHERST is research, even though currently in The Gambia, research is not optimally recognised and/or appreciated as an important means of knowledge;yet he believes "it is the solution to every problem".
Dr Senghore further pointed out that the recent creation of a Directorate of Research (DOR), which is tasked with the responsibility of overseeing government structures and implementation of research activities in the country, is a clear manifestation of his ministry's commitment to ensuring that research is given a new impetus through the cultivation of a research culture in all institutions.
"The government has also agreed to establish the National Research Council, and the Ministry is putting all efforts towards ensuring it is implemented," he added.
"Also in partnership with SSHFC my Ministry will work towards strengthening research infrastructure and capabilities within the tertiary and higher education sector in order to increase research output."
The permanent secretary at the Higher Education ministry, Dr Cherno Omar Barry, while thanking SSHFC for their "significant gesture", called on the members of the private sector to come to their aid and help them drive the crusade of research development in the interest of national development.
"As we all know the central government cannot do it all alone; we should all have a stake to play including the private sector in this national and noble crusade towards nation-building."
PS Barry further challenged the private sector and all stakeholders to play their part, to ensure that universal access to relevant and high quality education is achieved in The Gambia.
Read Other Articles In Article (Archive)