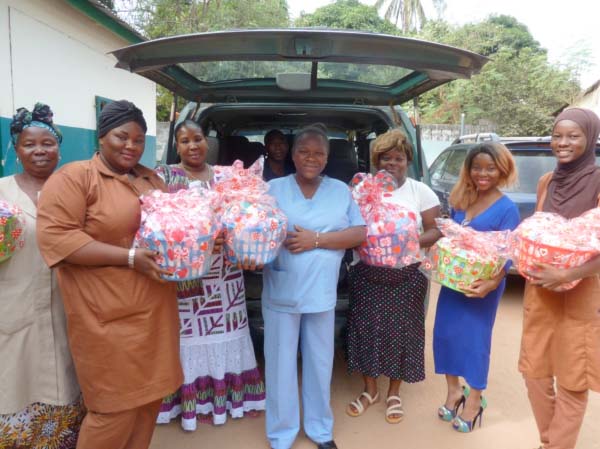 The president and founder of Prospects in Mummy Tummy (PIMT), Sarah Musa, a young lady based in America, is currently in The Gambia embarking on massive distribution of Christmas gifts to pregnant women at various health facilities.

The lady started the distribution of the gifts, including baskets of baby items, on Monday, to pregnant women at Serekunda General Hospital in Kanifing, and Serekunda health centre.
Ms Musa said this year's distribution was the second of such initiative since the formation of her foundation in May 2015 to help underprivileged mothers and children.
The mission of the foundation, she said, is to ensure that pregnant women are well taken care of by giving them necessary support in terms of materials so that they can help their babies.
The foundation is to give Christmas toys to the children's ward of the Edward Francis Small Teaching Hospital in Banjul Hospital on Wednesday.
The founder said they have a future plan to build clinics in strategic places to take care of pregnant women and lactating mothers.
Fatou Joof, head of RC at Serekunda clinic, thanked the foundation for the support to pregnant women, saying "it is a very good move".
"We have nothing to say but to thank her [Ms Musa] and pray for her organisation to continue supporting humanity," she said.
She noted that the materials would help in reducing the burden of pregnancy on women.
Jestina Nosa, the mother of Ms Musa, said her daughter is always passionate about helping humanity.
Madam Adelaide Yadi, a board member and auditor of PIMT, commended the founder of the foundation, saying she is worthy of emulation.
"It is not too often that you see a young girl at this age [the age of Ms Musa] doing this kind of charitable work. She does not wait to be sponsored; every gift given is from her pocket and the family. Therefore, I am very proud of her," Madam Yadi said.
Read Other Articles In Article (Archive)