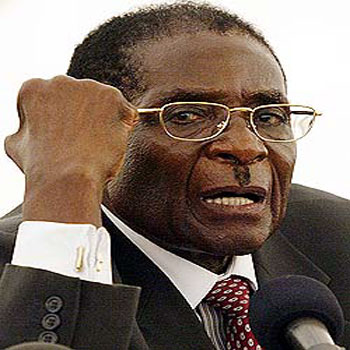 Africa's most popular former President, Nelson Mandela of South Africa, during the celebration of his 90th birthday in London, used the opportunity for the first time to denounce the authorities in Zimbabwe for refusing to allow democracy to flourish. His statement is attracting powerful headlines in various London newspapers and magazines, many asserting that his adding his voice to the political dilemma in his neighbouring country is essential and likely to generate positive effect to the current situation.
During a fundraising dinner in the city that was later followed by a giant concert involving various famous artistes and attended by thousands of people across the world, Mandela remarked that the crisis in Zimbabwe is a "tragic failure of leadership" that needed to be addressed.
The protest statement of the former president, who spent 27 years in the notorious Robin Island prison for opposing Apartheid, has been received well by many who believe that his timely intervention may be useful in helping to restore sanity in Zimbabwe.
Mandela, who turns 90 on July 18, is now in frail health and has difficulty walking unaided. The concert, which took place at the Hyde Park and was attended by this correspondent, has been described as one of the most well-attended programmes ever to have taken place in London.
Both the tube and bus stations were packed with dozens of people intending to reach the destination. The Hyde Park itself was already full of people from all walks of life well prior to Mandela's arrival.
The former President's prison number 46664 was displayed on all the entrances while journalists from different media houses busied themselves taking pictures and conducting interviews.
The concert was in support of Mandela's global AIDS campaign, which involves a good number of celebrities in the UK and around the world. Such supporters include various politicians and some members of parliament in the country. Earlier Mandela had an audience with the Queen and some government officials. Both Prince Harry and William also attended the programme.
British Prime Minister Gordon Brown said: "We're particularly honoured that he'll be celebrating his birthday here in London and that he's using his birthday to selflessly fundraise and build further support for his exceptional 46664 charity."
Song writer Jerry Dammers, one of the architects of the famous song 'free Mandela,' said that the former South African president is "an inspiration to everyone and the greatest example in the whole world."
He said "Mandela has been from hell and back and imprisoned unjustly for too long but he is still not bitter. This is why when he clicks his fingers alone everyone joins him in support."
Bob Geldof has been instrumental in Mandela's 46664 charity and always demanded others support him. Artist Brian May said it is still hard to believe that the "calibre of Mandela exists because he is so exceptional."
Another well-known artist, Jimy Cliff, explained that "despite what happened to him and all his achievements, Mandela is still humble and honest."
The American Hollywood star, Will Smith, noted that Mandela is the "greatest historical figure in this era." Formula One driver, Louis Hamilton, and US actor, Denzel Washington, were among those due to attend the concert. Hamilton revealed that he was inspired by Mandela and had always wanted to meet him one day.
Musician Jim Kerr outlined that when he sang for Mandela during his 70th birthday, it was done "with anger but now it is different and his song will have to stay alive."
Famous British singer Amy Winehouse, Brian May, Andrea Corr, Queen with Paul Rodgers, the squabbles, the new rising star Leona lewis, Razorlight, Simple Minds and a host of other well known international stars also performed.
The former South African President seeks his 46664 campaign against HIV/AIDS, to be broadcast around the globe. The 46664 campaign aims to raise awareness of the HIV/AIDS epidemic, which is rife in sub-Saharan Africa. Mandela lost a son to AIDS in January 2005 and has now made the fight against the pandemic his main cause.
Explaining the importance of the celebration, one of Mandela's spokespersons said that "the reason why Mr. Mandela is coming to this concert is that it is his way of saying thank-you to the British people for the Free Nelson Mandela Concert at Wembley in 1988."
Interestingly a few individuals had different opinions about Mandela's views. A young West African who voluntarily approached this correspondent at the main entrance gate insisted that Mandela had made a "mistake in denouncing the regime of Robert Mugabe" because, according to him, "Mugabe is doing the right thing."
Read Other Articles In Article (Archive)