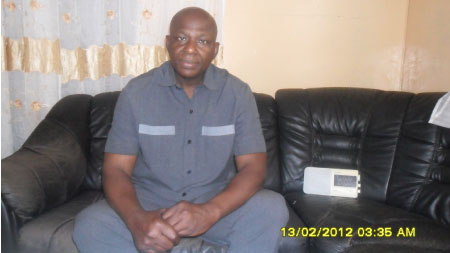 Hello and a warm welcome to yet another edition of Personality of the Week, your weekly column aimed at bringing prominent Gambians and achievers into the limelight.
As stated in our previous editions, this column has and will continue to bring you profiles of the giants in today's Gambia most, including women.
It is always said that when a man's passion is to help his people, nothing wets his appetite more than his desire to provide for the good of all he comes into contact with. He is only satisfied if his people have at least the basics of life so that avoidable hardships have no place in their lives.
This is what our Personality of Week, for this week, firmly believes in and has been tirelessly working towards for nearly three decades.
Born in Badibou district in the North Bank Region of the Gambia some sixty years ago, Sulayman Sawaneh started life as a farmer before traveling to Dakar, Senegal, where he worked at the Senegalese national telecommunications company, Sonatel, for four years as an electrician. He later found his way to Ivory Coast, where he lived for two years. 
As someone looking for greener pastures, he worked assiduously, and saved enough to pay for his passage to Spain, where he spent three years, before proceeding to Holland. He stayed there for one year, and finally landed himself in Denmark, his present home for the past 26 years.  
Throughout his travels, Sawaneh looked for a county where he could achieve his dreams. After many years of moving up and down, he finally settled in Denmark, where he continued to work tirelessly to assist needy Gambians through the donation of medical items to health facilities, among others.
As a philanthropist, Sawaneh did not only stop at that, but went ahead to also extend a helping hand to inmates at Mile II, Jangjangbureh and Jeshwang prisons with medical items.
To cut it short, there is no major health facility in this country where his helping hand did not reach, from the RVTH the country's main referral hospital in the capital city of Banjul, to the AFPRC Hospital in Farafenni, Basse and Brikama health centres and the nation's broadcaster GRTS.
Thanks to his own company in Denmark, Sawaneh has over the years shipped a lot in containers to The Gambia to help the needy, free of charge.
Some years ago, he used to export fish from Africa to Denmark, but has now shifted his business venture into the exportation of used materials to The Gambia.
This was made possible thanks to his work in buying used materials from Denmark, which he would normally sell, and the proceeds used to help Gambians.
Sawaneh helps needy people in The Gambia by buying used materials from the companies in Denmark, when they close for business and then sell the used materials again in Denmark.
Helping people, especially the needy make Sawaneh a happy man in life, because his philosophy is sharing and caring with needy people, and he is not looking for cheap popularity from anyone.
What he sees in Europe is that Europeans help themselves, help their country and they fought hard for their country, and his belief is that no outsider or outsiders will come and develop The Gambia for us.
For him, it is the Gambians that should take the responsibility and develop our own motherland, The Gambia.
Sawaneh wants to do his utmost best, and he gives help out the materials collected to people directly, with the help of his friend, called Kalilu Jaiteh, instead of handing over the materials to the concern authorities in the country.
Wherever his materials are delivered, he makes a follow-up to make sure that they are in good order. If any of the materials got damaged, it will be returned to him and another replacement will be provided.
That system of replacing another material for the damaged one makes Sawaneh a good businessman.
He feels happy that the materials he gave out to institutions over the years are still in place. Sawaneh has ensured that what he gave to the various institutions are all still in place.
Sawaneh is a humanitarian person who believes in assisting those who are not in a position to earn something to help themselves or families.
Sawaneh, for example, has been bringing free eye necklaces to people in country, free of charge, because many people are having eye problems. 
He believes in contributing to national development in The Gambia, including his native village of Njaba Kunda.
Sawaneh's generosity symbolizes a spiritual and religious discipline which contributes significantly in building the society that we are living in today.
Sawaneh's help to needy people should be food for thought and a source of reflection for Gambians living in the country, and Gambians staying abroad.
He is a real philanthropist that lights the hearts and minds of needy people in The Gambia, and now Senegal.
Just this week, he moved to Thies in Senegal, where he opened a shop for those with eye problems in that country, at no cost to them. 
Read Other Articles In Article (Archive)