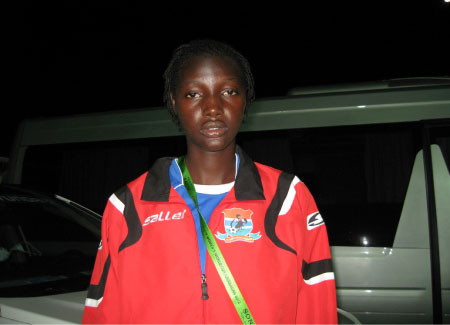 The Gambia have experienced the toughest of debut at a FIFA women's competition at Azerbaijan 2012.
Beaten 11-0 in their Group B opener by Korea DPR, they subsequently had their hopes of survival extinguished on Tuesday when they went down 6-0 to the USA and lost their last game against France by 10-2 at Baku's Delga Arena.
When the game ended, all players went to the dressing room in very sad mood.
Author of The Gambia's first goal in this tournament, Penda Bah, the No 8 jersey player, saw no reason for disappointment. True, the Girl Scorpions have lost all their games, conceded 27 goals in the process and scored only two goals, yet these were, after all, the nation's very first matches in FIFA women's finals at any age category and against three of the tournament's strongest teams.
"After losing all our games in this tournament our coach told us that this is just football," said the teenager. "You either win, you lose or you draw, and that's that. We lost and we have to accept it. It was not easy to get to the World Cup because the qualifiers were very tough.
"The way I see it, this is a great opportunity for us and we have to look at it as such. This is only our first time here and we did what we could."
Penda Bah started to play football only last year with Makasutu FC. She was discovered in league matches and was called for a national duty.
Penda has been involved from the off at Azerbaijan 2012. After coming playing 65 minutes, she was replaced by Sainey Sisoho in their opening game against the North Koreans.
"I am saying sorry to all Gambians for our poor performance in Baku. We were hoping for better results but things went this way. Our coach will always tell us this is football we just have to go back home and rectify our mistakes," she said.
The 14-year-old narrated her interest and experience in football saying: "When I'm not playing I like watching matches at different parks or on TV. I watch international football, especially when Peter Crouch is playing; he is my role model."
The promising, skilful and determined player also said: "I am currently going to school; I am in grade 10. My favorite food is okra soup (Supa Kanja) and I like dancing, listening to Senegalese music, especially Yusu Ndour."
Read Other Articles In Article (Archive)