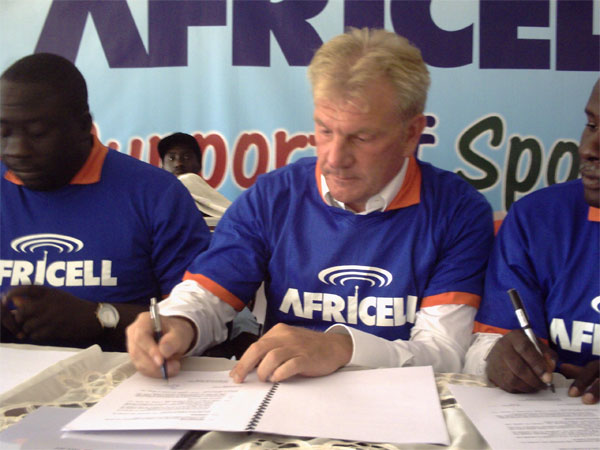 Following a few weeks break after the senior national team match against Algeria, the Head Coach of the senior national team, Paul Put, has express his desire to bring Gambian football to a professional level.
He made these remarks in an exclusive interview with Pointsports at the Sea View Garden Hotel. Coach Put, who was on holiday in his native land Belgium and is finally back in The Gambia to take charge as the head coach of the senior national team said, " I am very proud to work with the Gambian team and the FA too. I am really happy with the team's performances within the short period we spent together. We have a very young team and a long future ahead of us." He said that he has a lot of plans for Gambian football. "I have The Gambia at heart and want to bring Gambian football to the highest level," he said. He added that after the game against Senegal, "I will have a project for the coaches in
The Gambia which is also part of my job in the Gambia." He explained that all he needs to do is to focus on his upcoming games. "I am looking forward, with the help of the FA, to have an international test game before our game with Liberia in Banjul. We were supposed to have a test game with Iran but it has been cancelled and I am going to meet the FA to see what we can do to have a test game even if its going to be a first Division team in Holland or some were else. It is very important for us to play before our game with Liberia." He further stated, "I am very happy with my players and their commitment. They have shown me that we have a team that is willing to play with unity and oneness in the team."
Meanwhile Paul Put was supposed to meet the FA yesterday afternoon to discuss the issue regarding the test game and get prepared for The Gambia Liberia game on September 20.
Read Other Articles In Article (Archive)