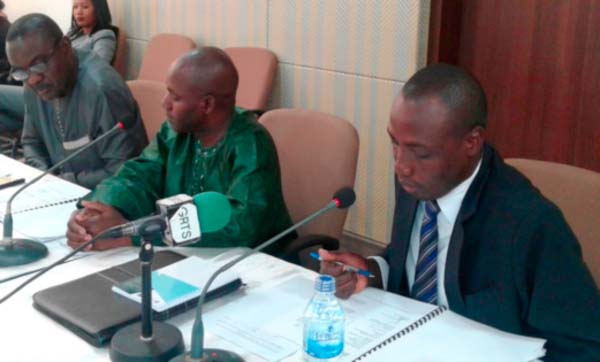 The joint session of the Public Accounts and Public Enterprises committees (PAC/PEC) of the National Assembly yesterday scrutinised the annual activity report and financial statement of The Gambia Standards Bureau.
Presenting the annual report before deputies, the Director General of the Gambia Standard Bureau, Papa Secka, said the Gambia Standards Bureau Act was enacted in 2010, but the bureau began operations in earnest in 2012.
A board of directors consisting of members from the public and private sectors, academia and consumers, oversees and determines the overall policy and strategy of the bureau, with particular regards to its financial, operational, organisational and administrative programmes, among others.
Mr Secka added that the government established the bureau as a specialised agency to "standardize products, methods, systems and for connected matters," thus making it the sole national standardisation body.
In addition to standardisation, the bureau is also responsible for scientific and industrial metrology and conformity assessment services such as testing, inspection and certification of products and systems.
In order to effectively and efficiently deliver on their mandate, the bureau created divisions addressing each pillar of the quality infrastructure, he said.
"We have divisions of standardisation, metrology and conformity assessment along with the supporting division of finance and administration."
He said it was important to note that The Gambia Standards Bureau is not responsible for that area of metrology called legal metrology, which still remains with the Weights and Measures Bureau under the Ministry of Regional Integration and Employment.
Unlike the Weights and Measures Bureau, whose work is restricted to verification of measurement devices used in trade such as markets, The Gambia Standards Bureau keeps and maintains the most accurate measurement standards.
The Director General further told the committees that the Act mandates the bureau to have membership participation in the work of international standards-setting bodies, so as to avail itself the opportunity to present and defend the interest of The Gambia.
The Act requires the bureau to play a key role in the formulation of the national quality policy, he said, adding that it goes without saying that quality is indispensable in socio-economic development, and in maintaining peace and security.
"The first step towards assuring and delivering on quality in all spheres of economic and social activity is spearheading the finalisation of this policy in close collaboration with its line Ministry of Trade, along with the contributions of all stakeholders in government, the private sector and civil society."
The finalised national quality policy was approved by cabinet in June 2014, he added.
The Gambia Standards Bureau would report back to the National Assembly for the consideration of their report today.
Read Other Articles In Article (Archive)