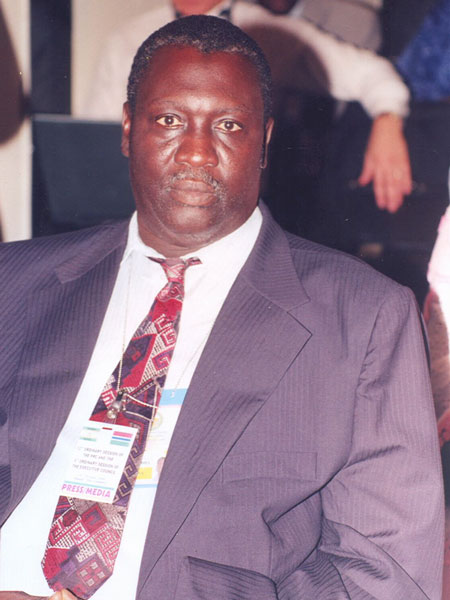 The Banjul Magistrates' Court presided over by Magistrate Lamin George, yesterday ruled in favour of the defence on the resumption of the trial of Pap Saine, Co-publisher and Managing Editor of the Point Newspaper.
Defence Counsel, Momodou Drammeh, told the court that the defence have not been served with witness statements. He submitted that it is in the constitution that whoever is charged with a criminal offence should be given adequate facilities and time to enable him or her prepare his or her defence.
He said the defence was therefore applying to the court for the prosecution to make available the witness statements, file copy of the charge sheet, and all other documents that the prosecution intends to rely on in the case.
Prosecutor Cadet Inspector Keita told the court that he was objecting to the defence application for the prosecution to provide the essential materials to the defence. According to him, this application was not applicable in a subordinate court.
The court in its ruling ordered the prosecution to make available all the documents requested for by the defence.
The case has been adjourned to 25th March 2009.
Meanwhile Pap Saine's case at the Kanifing Magistrates' Court before Magistrate Sainabou Wadda-Ceesay also proceeded yesterday.
At yesterday's proceeding, defence counsel Hawa Sisay-Sabally told the court that the defence was still maintaining an earlier objection to the charge sheet as the previous one.
Counsel Sisay-Sabally argued that the 2004 amendment Act was overtaken by the 2005 amendment Act, and that this very Act amended the principal Act.
The prosecuting officer, Inspector Fadara earlier told the court that he has filed another charge sheet and that he applied to substitute the previous charge sheet. He then applied to the court to put the substituted charge sheet in order following the objection raised by the defence.
This case at Kanifing Magistrates' Court was subsequently adjourned to 23rd March, 2009.
It could be recalled that Mr Pap Saine is standing trial at both the Banjul and the Kanifing Magistrates' courts.
At the Banjul Magistrates' Court he is standing trial on charges of obtaining registration by false pretence and obtaining a Gambian passport by false declaration while at the Kanifing Magistrates' Court, he is standing trial on charges of false publication and broadcasting.
Read Other Articles In Article (Archive)