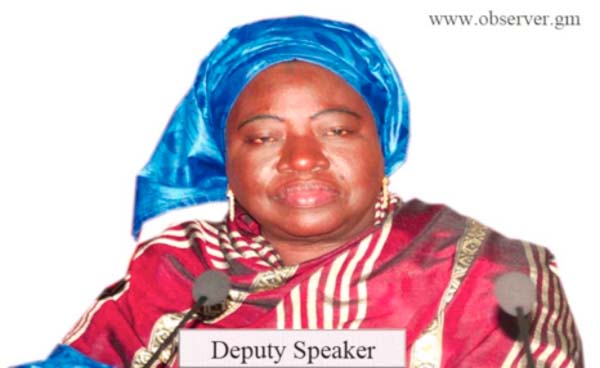 The joint session of the Public Accounts and Public Enterprises committee (PAC/PEC), of the National Assembly Thursday adopted the annual report and financial statement of the Public Utilities Regulatory Authority (PURA).
In his contribution, Hon. Lamin K. Jammeh, National Assembly member for Illiassa, thanked the board and management of PURA for their 97 per cent compliance, according to a GPPA report.
He said there is still room for improvement, and challenged them to be 100 per cent next time, when they report to the committees.
Hon. Jammeh added that there are two observations that he wanted to make, because Africell and Gamcel are paying D13,364,813 while QCell and Comium are paying lesser figure of D3,416,083 and D2,428,766.
He also commented on the Managing Director's statement that they were charging D4,000,000 to key providers instead of the D1,500,000 because of the economic situation.
He said some key providers still find it difficult to comply with their own rules, and "are still not paying".
The Illiassa NAM raised concern about the problem that keeps on occurring since 2013 on the issue of debtors and car loans, calling on the management to do something about it.
According to the management letter, he explained, the PURA management had been saying that with the help of their line ministry "we will continue to engage the defaulted operators, Gamtel and NAWEC, to try and pay their regulatory fees arrears, as well as car loan recovery".
Hon. Jammeh also asked whether the five dalasi Sim cards Africell are giving are registered, and that Afri-radio is countrywide while others are not, particularly GRTS, and asked what method is Africell using that other radio stations are not.
The deputy Speaker, Hon. Fatou Mbye, also thanked the PURA board and management for their compliance rating, and for the report.
"I want to ask about the regulatory fee that is being paid by Gamtel, Gamcel and NAWEC and what action PURA is taking to serve as a deterrent to ensure that is done?"
She also said PURA should specify the challenges, and why has the free night call been discontinued as a directive from PURA.
Responding to questions posed to them, the Director General of PURA Ansumana Sanneh, said they charged Africell and Gamtel D13,364,813 because the regulatory fee is a mandate for PURA to charge up to D1.5million and 5 per cent of their turnover figure".
He said the turnover figure of the operators" is what PURA would use to calculate the regulatory fee.
During the period 2014, regulatory fee turnover of Africell and Gamcel was "very high" and that of QCell and Comium was "very low", because QCell came to the market not long ago "so their turnover is not high compared to Africell and Gamcel, who have been here a long time ago".
He said they were still engaging the state-owned Gamtel, Gamcel and NAWEC to pay their regulatory fee.
On the car loan issue, they are also still engaging those concerned to pay the remaining balance, he said, adding that the free night calls discontinuation was because of the frequent poor network, which made them decide to suspend it to further improve on it.
On the issue of Afri Radio dominating other radios country-wide, he said that is because they have bought all the necessary things like transmitters and other relevant equipment to operate well. "PURA could only provide the resources to them and the rest is for them to buy the other things left to be able to be listened to country-wide."
Read Other Articles In Article (Archive)