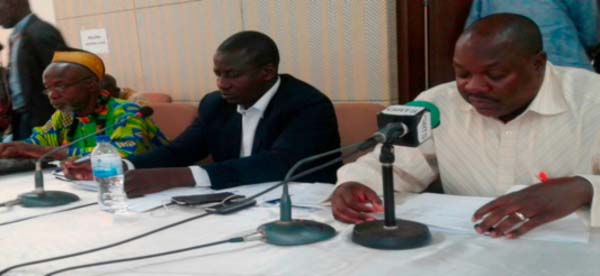 The joint session of the Public Accounts and Public Enterprises committees (PAC/PEC) of the National Assembly yesterday adopted the report of the National Youth Service Scheme (NYSS).
In his contribution, Hon. Abdoulie Saine, National Assembly for Banjul Central, commented on the donation and rent aspects indicated in the report, saying the D120,000 spent on rent as stated in the NYSS report could have built a full complex for them.
He also wanted to know the number of vehicles the NYSS has, saying the maintenance cost of the vehicles in 2013 was D43,850 and in 2014, D216,072.
He said he understood the lifespan of a vehicle was 5 years and they had used theirs over 5 years, hence it was better to get rid of them than spending a huge amount of money on them annually.
Hon.Saine also asked how they could justify that in 2013 they spent D80,000 on fuel and lubricants and in 2014 spent D295,000 on fuel and lubricants for two vehicles.
Responding to the questions, the Agt. executive director of NYSS, Landing B. Sanneh, said the challenges outlined in the activity report, required human, material and financial resources because they needed to train staff.
He also said that in trying to achieve the ultimate objectives of NYSS, they tried to outline resources in terms of human, material and financial resources to be able to adequately achieve their mandate as a public entity.
He said staff training was carried out to be able to get staff conduct themselves to the expectations of the mandate.
He also said the donations that NYSS gave were done through the Ministry and others were directives for NYSS to support the youths.
On payment of rent, he said that over the years NYSS was housed in an apartment given to the Scheme by the AMRC, and since the apartment was returned to the owner, they sought approval from the Ministry to rent a property.
In December 2014, they rented a property and later relocated to the NYSS camp to avoid the payment of rent, he said.
On maintenance of vehicles, Mr Sanneh said they had two vehicles, but in 2014 the main vehicle was involved in an accident and needed engine maintenance together with the 5-year-old vehicle.
Read Other Articles In Article (Archive)