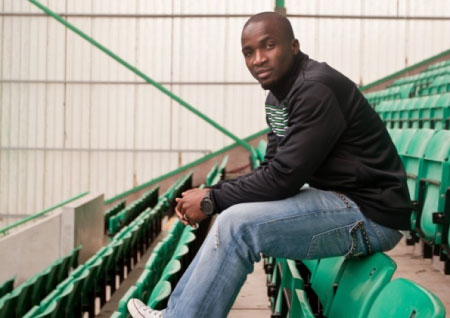 A left foot with the power and precision to strike a potent free-kick or cross accurately from the flank, a pair of legs with the will to take on and beat opponents and, perhaps most endearing, a head unpolluted by the pretentiousness that often follows a sportsman adored by scores of fans.
Modestly-proportioned it may be, but the diminutive frame of Pa Kujabi contains many of the components required to ensure the Gambian defender's popularity among Hibs fans will continue to grow.
The Easter Road supporters have done their best to inflate the ego of their team's recent signing, with "Kujabi" and "19" featuring more regularly than any other name and number on the back of the away replica shirts sold in the club shop.
He arrived four days into February but, alongside some of the many other new faces recruited by Hibs boss Pat Fenlon in recent weeks, it would appear Kujabi has already caught the imagination of the club's fans.
"It's good that things like that are going your way – it's nice," said the 25-year-old of his quickly-found status as a crowd favourite. "I just want to concentrate on doing well for the team.
"For me, I'm trying to work harder and harder every week to give the fans what they want to see on the pitch. But, it's not only me, if you look at the team last week, everyone is working hard to give results to the team. It's going well."
Kujabi's four starts have yielded a series of results that a month ago would have seemed unthinkable for Hibs: two wins, a draw, and defeat only to runaway title favourites Celtic. After making his debut in the 1-0 home win over Kilmarnock in the Scottish Cup, the player formerly of FSV Frankfurt and Austrian teams Grazer AK and SV Ried, most recently helped Hibs to an impressive 3-1 win at Rugby Park last weekend.
"A couple of good results, and we're not playing bad," is how he plays down the recent form of his new team. "Our aim is to start moving up, but you can't just jump – you need to take it step-by-step. We can't just say because we won one game that we're going to win every game. It's football, it's very funny. Make a small mistake and you can be punished. So, we're just looking forward to the next game, to prepare, and to fight like we did against Kilmarnock."
The single blot in his diary entries since signing an 18-month contract with Hibs would denote the time Kujabi was dropped by Pat Fenlon for the defeat at Motherwell a week ago. While the type of cavalier attacking style he had shown from defence in his first few weeks was not deemed suitable for that game until Kujabi's introduction in the 81st minute in the 4-3 defeat at Fir Park, the reaction of the player to being denied a start offers an insight into a humble personality and will have been positively noted by his manager.
"I didn't talk with Pat before that game, but, to me, I didn't take it like, 'Why did he drop me?' I see it as a positive, because we have so many players. [Fenlon] has said not every player will play every game. We have three games in a short period, so we're going to rest some players and play others. It helped me because I rested, and I had my strength back to play against Kilmarnock. Even though it wasn't my best performance [at Killie], I think it was okay."
Cynics could write off Kujabi's sentiments as "only words", but his outlook serves as a perfect role model of a proper squad player.
"The important thing, whether you play or don't play, is that you support the team," says Kujabi. "You back the team, try to go forward with them, train hard, and show the coach, 'I want to play'. Not like, 'He's not playing me, I don't care' – no! I'm not here to sit on the bench, I want to play. If the coach feels like he's not going to play me, I'm not going to blame him, I'm just going to go away and work hard and see myself come back into the team."
In and out of the team, on and off the pitch, Kujabi seems at ease with himself at Hibs and in Edinburgh.
"I go out in the city, with friends to drink and eat," he says. "I have a couple of Gambian friends I know here. I knew people here before I came. Gambia is a small country, so when I moved here, they knew I was here."
One of his closest acquaintances on these shores is Ousman Sonkou, a fellow Gambian who moved from Edinburgh to Glasgow just weeks before Kujabi settled in the Capital. By quirk of fate, Sonkou played deputy to Kujabi's defensive role with Gambia's under-17 and under-20 teams and arrived in Europe for trials with clubs in Germany. Now in his mid-20s, Sonkou has given up football due to a knee injury.
Kujabi appreciates that he has enjoyed decidedly more luck than his old friend since arriving on these shores.
"For me, it's great at Hibs," he says. "I was playing in the Austrian Bundesliga, then in the second division in Germany, then on to the Scottish Premier League. It's good to always play in good leagues. The club, the way the people are, that helps me. They give me the things I need, and to have my friends around, talking and on the phone, that helps. The players are great, the fans are fantastic. I'm definitely happy here."
Having been successfully marketed as the Gambian Robert Carlos as he completed his move to Hibs and, to some extent, backed up the hype with some impressive performances, it is little wonder Kujabi has helped shift so many Hibs shirts. Any success breeds heightened expectation, so Kujabi must now deal with the responsibility of continuing to entertain the Hibs fans.
"Yeah, definitely," he says. "At the moment, it's difficult – it's a hard time for the team. For me, I'm not playing to entertain them. I'm just trying to give my best for the team to win. The result is more important, and we need to do the job right before thinking of entertaining the fans for them to scream."
With their win at Kilmarnock, Hibs rose three points clear of bottom club Dunfermline and to within five points of tenth-placed Inverness. The faster Hibs can climb the SPL, the louder the accolades will tumble from the stands in homage to a Gambian left-back.
Read Other Articles In Article (Archive)