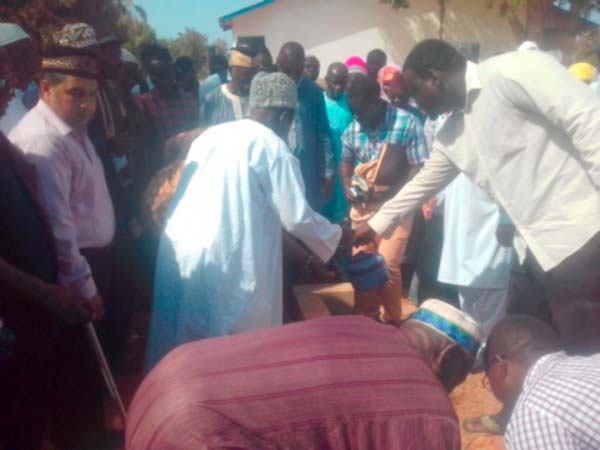 The Ahmadiya Muslim Jama'at The Gambia, in collaboration with the Ministry of Basic and Secondary Education (MOBSE), Thursday laid the foundation stone for multipurpose hall and canteen at Masroor Senior Secondary School, in Old Yundum, West Coast Region.

The construction of the assembly hall will cost humanity first over D4.6 million, according to officials of Ahmadiya Muslim Jama'at.
In his welcome remarks, the alkalo of Old Yundum, Mahmudou Fye, said the laying of the foundation stone showed that the Ahmadiya Muslim Jama'at The Gambia is committed to offering good education.
According to Mr Fye, with less than ten years, Masroor Senior Secondary School is committed to nurturing a new generation of doctors, teachers, and directors to contribute to the development needs of The Gambia.
He said upon the completion of the building, it would bring students together in a large and modern school setting and it would also cater to those with special needs.
He said the presence of Ahmadiya Muslim brothers showed the significant they attached to education and the role education plays in national development.
In her remark on the occasion, Mrs Claudia Cole, Minister of Basic and Secondary Education, said the school hall and canteen are very important in a school.
She said students could make their assembly without standing on the sun and they could even do their exam and canteen is another important thing were the students would have their feeding like breakfast and lunched.
For his part, Amir Baba F. Trawally, said the day marks important collaboration between the Ahmadiya Muslim Jama'at and the Ministry of Basic and Secondary Education in the pursuit of building a better future for the children.
He said Ahmadiya Muslim Jama'at has had a very long standing relationship with the government of The Gambia.
The building of Nusrat Senior Secondary School in 1971 marked the introduction of high school education in the kombos, he said.
He also noted that few weeks ago, D416,395 borehole solar system project was completed at the multi-purpose land in order to provide clean water to the students, staff and community.
Read Other Articles In Article (Archive)