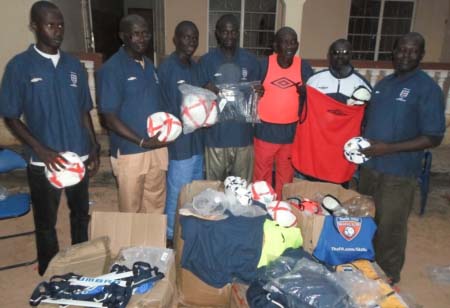 UK-based Lamin Society on1 November 2013 boosted Lamin Sports Committee with football materials worth D213,500.
The materials, which included committee uniforms, beeps, footballs and other items, were given to the committee for onward distribution among clubs taking part in its nawetan competition.
Speaking at the handing-over ceremony of the materials, Foday Saidy, president of the UK-based Lamin Society, said the gift was only a token which could be something substantial for the committee.
Mr Saidy added that they recently also helped to renovate the Lamin Health Centre with D129,000, and also supported in electrifying the Lamin graveyard with D21,600.
They have also sponsored the internal Lamin zonal competition set to take place soon, he said, adding that the sky is the limit for what they have for the youth.
They are there for the young people of Lamin, he remarked, saying they are not leaving anyone out, be it religion or tribe, as there is no discrimination.
While calling on the committee to share the materials equally among the clubs, he also urged them not to compromise on indiscipline.
"Discipline is our number one priority," he stated, saying: "Let's say no to drugs and indiscipline."
"No-one will come from outside to develop our village for us; we should do it for ourselves. Here is our home and we want to develop it," he said, adding that it is part of their plans to grass the Lamin football grounds.
"Let us cooperate, let us have confidence in each other," he went on, saying they have the ambition to develop their village.
He also told the committee to ensure its decisions are final, saying the representation and veto power of Pa Momodou Faal, chairman of the Lamin Sports Committee, are necessary.
Lamin Kuru Kongira, representative of Lamin Village Development Committee (VDC), said they were lucky to receive such a gesture from the UK-based Lamin Society.
He described the Society as dynamic and patriotic, saying they were fortunate to receive three gestures from them within a short period of time.
He assured the donors that anything given to them will be put into good use, saying they are grateful about the gesture.
He said they would also continue to support Lamin Sports Committee in anything they endeavor to do, saying "it is important to be transparent in anything you are doing".
Mr Kongira remarked that they have already identified a place where the multi-purpose sports centre will be established, saying this year's Lamin nawetan is violence-free as they have witnessed only one scenario since the commencement of the tournament.
Pa Momodou Faal, Chairman of Lamin Sports Committee, in receiving the materials, said they are grateful for the support they have been receiving from the UK-based Lamin Society since they took office.
The UK-based Lamin Society is empowering them to ensure the youth's expectations towards them as a committee are met, saying Lamin is bigger than anyone of them and it is the interest of the village they should put first.
"We value and appreciate your efforts," he told the UK-based Lamin Society, adding that they are fortunate to have them and the VDC behind the committee.
Mr Faal also said they would not compromise on indiscipline since without discipline it would be very difficult for them to develop.
He remarked that 2 years back Lamin were Super Nawetan champions, adding that they want to be equipped this year to be able to win the trophy again.
"We say bravo to you because you have not forgotten your village," he told the UK-based Lamin Society. 
Read Other Articles In Article (Archive)