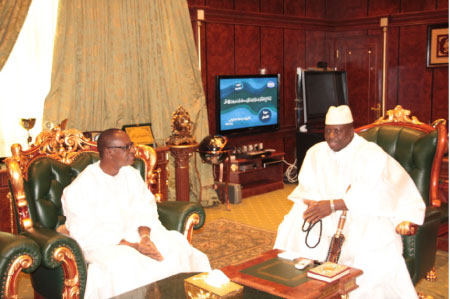 The outgoing Senegalese ambassador to The Gambia yesterday bade farewell to President Yahya Jammeh at State House in Banjul.
Diame Signate, who spoke to waiting reporters after a closed door meeting with the Gambian leader, is ending his tenure after one year six months as the Senegalese top diplomat to The Gambia.
He told journalists that he was at State House to bid farewell to the Gambian leader, noting that everything in life has an end.
According to him, during his tenure as Senegalese ambassador to The Gambia, President Jammeh opened the way for him.
"President Jammeh did not only open the way for me as an ambassador, but even extended it to all the Senegalese people residing in the country," the outgoing diplomat said.
Commenting on relations between The Gambia and Senegal, Signate said the two states are one country that shared everything in common that no one can separate.
"Nobody can differentiate between Gambians and Senegalese because they are all one. There is no Gambian who will say that he has no relatives in Senegal likewise Senegalese," he added.
Read Other Articles In Article (Archive)