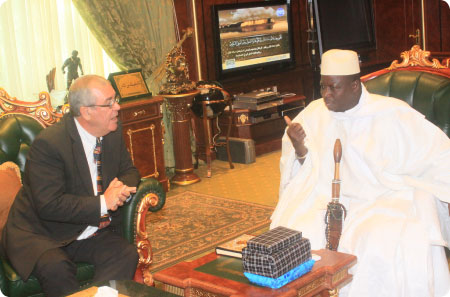 President Yahya Jammeh yesterday received the outgoing British High Commission to The Gambia, Phil Sinkinson, whose four years and a half mission in Banjul ended this week.
High Commissioner Sinkinson told journalists shortly after meeting the Gambian leader that he was at State House to take leave of President Jammeh, before his departure.
"I have been here, four and a half years in the Smiling Coast, and I had a wonderful time here in Banjul. I thanked the President for allowing me the honor to stay here for that length of time, and I met lots of wonderful people in The Gambia," he said.
He added: "I met lots of friends, and although, as I said to the President, although we don't always agree on every single issue, we are friends, and we can discuss our problems in private."
According to the departing British envoy, he has successfully broaden the relationship between The Gambia and the UK, not single-handedly but through the efforts of the various ministers in the Jammeh administration.
He noted that the Gambian foreign minister visited UK last year for the first time, adding that the visit was useful in terms of broadening the bilateral relationship between the two countries.
He expressed hope that his successor will work towards broadening the trade and investment relationships between The Gambia and the UK.
"The face of development in The Gambia is very good, and very strong. The development programs and the projects that are in place, particularly in the road and water projects, have been very good in The Gambia, and very useful and the people in the interior of The Gambia have welcomed those particular projects," outgoing High Commissioner Sinkinson added.   
Read Other Articles In Article (Archive)