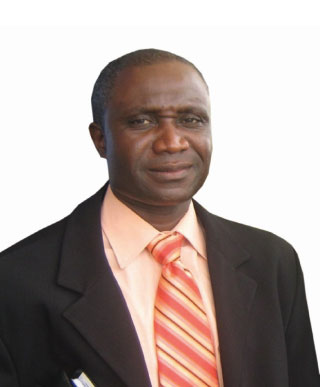 The former Sports minister and currently one of President Adama Barrow's advisers has said anyone that anyone who wish to take over the government should come through the front way and not the 'backway'.

Henry Gomez, who was speaking in an interview with journalists during the Barrow For 5 Years and Peace Building solidarity march on Sunday, added: "There is no backway for anyone who wants to be president of The Gambia, but rather the front way."
The solidarity march was staged barely a month after a rival pressure group – Operation 3 Years Jotna petitioned President Barrow to step down in honour of his campaign promise of three years mandate and also the agreement of the Coalition 2016.
Protesters were carrying different banners inscriptions: "We give our support to Barrow for 5 years." "Barrow for 5 years, peace and stability." "Actors for Peace." "We stand by the constitution." "GPDP in defence of the constitution." "North Bank Region Barrow for 5 Years."
Mr. Gomez, who is also the secretary general of the GPDP further argued that everyone knew what had happened in the country 22 years ago, saying oppositions were treated like 'animals' and were being called all sort of names.
According to him, it's very important to see Gambian people come out in their large numbers to defend their constitution.
"The constitution is not only about you and me but all citizens and Gambians have come out in all numbers to defend this constitution. It's my right also to be here because I'm a leader and the secretary of GPDP. So I am also not here as politician but as a Gambian who has to defend his right," Gomez said.
For his part, Kajali Jagana, a strong Barrow supporter, said the solidarity march was meant to call for unity and speak in one voice for the development, peace and stability of the country, adding that The Gambia's constitution states a five-year mandate for presidency and not three years.
"We all voted President Adama Barrow for five years and not three years because there is nothing stated in our constitution that a president should rule for three years," he said.
He thus hailed Barrow, saying he is the person who pulled the country from a 22-year dictatorship rule.
He calls on Gambian people to speak in one voice and assist the government so that peace can continue to reign in the country.
Read Other Articles In Article (Archive)