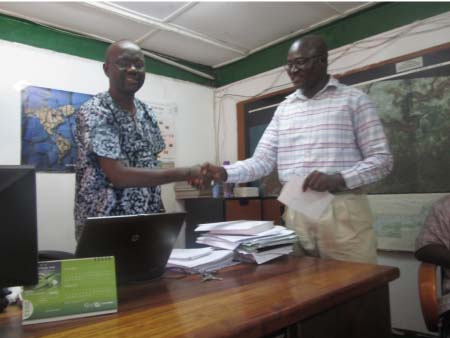 Sam Nget, director of Forestry,has told visiting executive members ofBiodiversity Action Journalists - Gambia (BAJ Gambia) during a courtesy call that his "office doors are open for partnership" while welcoming theinitiatives and efforts of the organization towards preserving and promoting environmental-friendly initiatives.
Mr Nget made this remark on11November during a courtesy call on him and other officials of the Forestry department in Banjul.
The visit was meant to brief the director and his team about possible ways of partnering and collaborating in areas of interest to both parties, particularly forestry and environment.
"Forestry department alone cannot do it," he said, adding: "We try as much as possible to seek wider partnership and collaborations with key partners and stakeholders for the sustainable management of the forest and forest resources."
He describes BAJ Gambia as a key stakeholder in the sustainable management of the forest and forest resources, because they are doing a lot of sensitization and creating public awareness on environmental protection including forest and forest resources.
The forestry director also welcomed the idea of partnership when the BAJ officials appealed for technical support to train their members on forestry act and its relevant instruments for journalists to report properly and adequately on such issues.
For his part, Abdou Rahman Sallah, National Coordinator of BAJ-Gambia, said their aims and objectives include public awareness on environmental thematic areas to encourage local community participation in protecting and conserving the country's biological and natural resources for posterity.
He told them BAJ- Gambia draws its members from the print, electronic, community radio stations, and bloggers across the country.
"BAJ- Gambia is an environmental and natural resources organization founded in December 2010 with technical assistance from the Department of Parks and Wildlife Management. It is advocating for the sustainable use of biological and natural resources for its availability in the future," Mr Sallah said.
According to him, the idea of forming BAJ-Gambia came out from a study tour to Senegal in early 2010, through the Niumi-Saloum Trans-boundary Biosphere project jointly implemented by Senegal and The Gambia and supported by the IUCN and UNESCO under the Man and Biosphere (MAB) component. 
He noted that BAJ Gambia is an advocacy group trying to change the mindset of people and making them understand that the environment and all its resources belong to them (the public), hence they should endeavour to protect and preserve it for present and future generations.
He commended all those who have one way or the other supported his organization and appeals for more support both technically and financially.
Babanding Sanyang, head of information dissemination at Forestry Department, also buttressed remarks by previous speakers, while welcoming the effort and initiative by BAJ-Gambia.
"In our drive to achieve excellence, we are open to genuine partnerships," he said, adding: "My role is to bridge the communication gap as the forestry act calls for partnership and collaboration."
He told BAJ-Gambia leadership that his office publishes a quarterly magazine on forestry issues, saying that is one of the areas BAJ-Gambia could also help.
Cherno Gaye, a senior official at Forestry department, also dilated on the importance of partnership and collaboration with stakeholders to complement the efforts of the forestry department, an undertaking, he notes, cannot be overemphasised.
"You cannot talk about biodiversity without forestry; they are inseparable," he said.
Read Other Articles In Article (Archive)