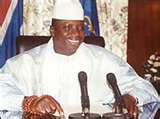 President Yahya Jammeh on Friday opened the 2011 legislative session of the National Assembly, and spoke on a wide range of issues, including some of the achievements of his government, as well as challenges faced and future plans.
The ceremony held at the Legislative Chambers in Banjul was also attended by cabinet ministers, National Assembly members, members of the judiciary, diplomats, traditional chiefs and the general public.
This year, President Jammeh chose as the theme for his address: "The Achievement of MDGs and Vision 2020 a Collective Responsibility".
He said he decided to choose this theme in recognition of the fact that the deadline for both the MDGs and Vision 2020 draw closer by the day.
"It is especially urgent that all Gambians at home and abroad, young and old, become more determined in their resolve to mobilise a more committed, stronger and unified populace that would ensure that the development goals and targets, that we have set for ourselves, are achieved in record time," he said.
The theme is also in recognition of the fact that achieving the MDGs and Vision 2020 goals is not the end, he said, but a means of salvaging Gambians from the ravages of poverty, underdevelopment, disease and ignorance.
The President challenged all citizens to once more take their rightful place, wherever they are, as Gambians and be ever guided by the noble task of nation-building that requires nothing less than honesty, hard work and, above all, patriotism.
"All assessment reports conducted both within and independently by others on The Gambia's status on achieving the MDGs suggest that, despite the many challenges that confront us, significant progress has been achieved in virtually all sectors of the Gambian economy, including the critical social sectors of education and health."
The President noted that, despite these significant achievements, there is no room for complacency.
He went on to highlight some of the achievements registered by his Government and The Gambia as a whole over the years.
On Finance and Economic Affairs
"The Gambian economy has been growing appreciably despite the recent turbulent times, when the overall global economic climate has not been friendly, particularly to developing countries. "GDP growth figures for 2010 indicate a strong 5.5 per cent economic growth rate that, from all indications, would be maintained in 2011," he said.
Despite the global economic downturns and political unrest in North Africa and the Middle East, which continues to affect oil prices across the world, the Gambia's economy continues to show stability, he added.
This indicates that the country has in place very sound and prudent macroeconomic policies that will help maintain a stable economic growth in 2011 and beyond, he continued.
He said a recent independent assessment by the World Bank team already corroborates these vital facts about the country's performance. "This was also expressed in a statement just released by the mission chief of the IMF during a recent IMF visit to The Gambia," he went on.
According to President Jammeh, the important milestone this year is the Program for Accelerated Growth and Employment (PAGE) that is being developed as a successor to the PRSP II.
The first generation PAGE (otherwise simply called PAGE-I) will cover the period 2012-2015, and is deliberately timed to coincide with the 2015 MDGs deadline.
He said that the next phase, which is PAGE-II, will cover the period 2016-2020 to end with the timeline for Vision 2020.
"PAGE process is intended to become my Government's medium-term policy framework to accelerate growth and social progress, while consolidating macroeconomic stability," added President Jammeh.
He said that PAGE, when completed, will be all-embracing and wide ranging in terms of sector coverage, performance targets and development strategy.
The stage has already been set to introduce the Medium Term Expenditure Framework (MTEF) as a tool for program-based budgeting for the entire government beginning in 2012, he further announced.
"Another important step to further improve financial management is the rolling out of the computerised Integrated Financial Information System to sites in 36 ministries, departments and agencies."
He said that the biggest threat to maintaining macroeconomic stability is the potential risk in inflation that is likely to rise from factors such as rising global food and energy prices.
On the risk of food insecurity, President Jammeh renewed his call for increased food production locally.
"For the rising energy prices, we will in 2011 and beyond continue to explore ways to minimise their negative impact, as well as continue our search for more reliable and cheaper renewable energy options that would reduce dependence on conventional fuel as sources of energy supply."
He went on to state that the country's banking industry continues to be sound, with a record of 22.7 per cent increase in the total assets of the industry to D17.8 billion last year.
President Jammeh said his government would continue to seek the support and collaboration of the Legislative Assembly to enhance the buoyancy of the financial sector, as a means of creating more credit borrowing and lending options necessary to spur private investments.
On Trade, Regional Integration and Employment
President Jammeh also announced that a new Trade Policy Action Plan (2011-2015) is being currently developed, with special focus on integrating trade into the overall national development planning framework.
He said that, in September 2010, The Gambia successfully concluded the second round Trade Policy Review, which gave the WTO member countries the opportunity to examine and evaluate trade and trade related policies towards ensuring adherence to rules, disciplines, and commitments made under the multilateral trade agreements.
The President stressed that the recent institutional boost given to the Gambia Investment and Export Promotion Agency (GIEPA), as well as other interventions, will complement government's efforts to stimulate economic growth and employment, and thus reducing poverty.
On regional integration, he said The Gambia is fully on board the ECOWAS Trade Liberalization Scheme under which unprocessed goods from the ECOAWS Region enter the country duty free and vice versa.
"Last year, 15 Gambian registered companies were granted approval under the scheme, and three are actively exporting," he said.
He further revealed that there are also some other schemes and agreements currently under negotiation.
Tourism and Culture
In the tourism sector, President Jammeh said his government will leave no stone unturned for support and to enhance growth.
The Gambia, he added, through the recently launched Growth and Competiveness Project has secured USD3 million from the World Bank to boost the sector.
"An important dimension in tourism sector development that my government is pursing is the aggressive marketing of the country's tourism potentials," he continued, and announced that a new marketing strategy has been developed, for which an additional 3 million dalasis will be provided this year by the government.
This, he continued, would be backed by a huge multi-million dollar investment in the sector to cater for all classes of tourists.
He said that a bill which seeks to restructure the Gambia Hotel School to make it a hub in the region for professional knowledge in tourism resources and hospitality industry management will be presented to the National Assembly. He also spoke of copyright actualisation to enforce the registration and protection of works of intellectual property.
Youth Development
On youth development, the President said his government will continue to come up with programmes to support youth endavours in employment, sports, agriculture, enterprise development, among others.
He implored on youths to recognize that their stake in national development is very crucial.
The President reminded young people of their greatest enemies, such as drugs, laissez faire attitude, and illegal migration.
"With the recently concluded NAYCONF, I am sure the resolutions passed that are being shared with Government would enhance a more positive approach to dealing with all issues affecting youths," he said, and declared that the government will continue with plans to upgrade all sporting facilities for youths.
Read more of President Jammeh's 2011 Legislative Session Opening Speech in our subsequent editions.          
Read Other Articles In Article (Archive)