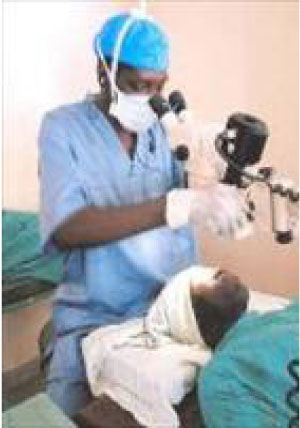 Operafrica, a charitable organization based in the United Kingdom on 15 January 2013 embarked on a massive eye operation exercise at the Gunjur Health Centre, Kombo South in the West Coast Region.
Some fifty eye patients from Gunjur and Kombo East benefited from the annual eye operation exercise.
In an interview with reporters, Paul Stafford, co-founder of Operafrica, said this was the sixth edition of Operafrica eye operation exercise in the country since its inception in 2007.
According to him, lots of people in Gunjur and beyond have benefited from the eye operation exercise.
Stafford said that while they concentrate on eye operation, they have also donated an ambulance to Sambuyang and supported a garden in Madina Salam and Berending from which lots of women are sourcing their income and livelihood.
Stafford further revealed that they have also installed hand pump and drilled borehole at the Gunjur Lower Basic School using solar.
Abdoulie Sumareh Sudulai, a patient, said nail hit him on his eye in 1984, and it was very difficult for him to see properly but thanks to the intervention of Operafrica, he can now see clearly.
Read Other Articles In Article (Archive)