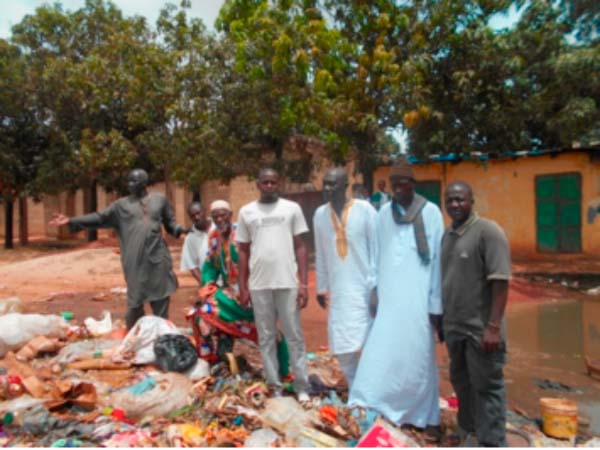 Students of Old Yundum Upper and Lower Basic School in Kombo North had their classes interrupted for three days following disturnace from an unbearable odour and smoke discharge from a dumped garbage near the school perimeter.

The stink, according to school authorities started since last week Wednesday towards Friday, invading the entire school, prompting the area education cluster monitor to instruct for a temporal shutdown of the school. The school is said to have been on preparation for the National Assessment Test (NAT).
Headmaster Famara M. Sanneh, said the reason of the temporary closure of the school was as a result of the continues discharge of bad odour and smoke from the indiscriminate dumped garbage near the school fence which, he said has invades the entire school premises while interrupting normal school classes.
He said the authorities, including the Alkalo, VDC, the school's senior management committee (SMC) and Brikama Area council were all informed about the dump site challenge faced by the school, accusing the residents of the village for the indiscriminate waste dumping.
"We decided to temporary close the school following an instruction from our area cluster monitor. This is because it will be impossible for us as administrators, teachers and students to stay in such a horrible condition for hours. How can an area of a school be selected for an indiscriminate waste dumping by the very residents of the community who are having their children in the school? We have informed all concern authorities but to no avail," he said.
Mr Sanneh said the situation will hugely affect the normal contact hours a child should receive from his or her teacher, while mentioning that the 8080 contact hours allocated by the ministry of basic and secondary education will no doubt be affected by the 3 days normal class interruption caused by the odor.
"The temporal closure of the school will obviously affect normal child to a teacher contact hours set by the ministry of basic education and this of course will have the same impact on grade 5 and 9 students who are preparing for their final (NAT) and GABECE examinations.
He appealed to concern authorities to take steps in order to resolve the situation permanently, saying they fear that if the situation continues is not addressed, it will continue to interrupt classes.
Read Other Articles In Article (Archive)