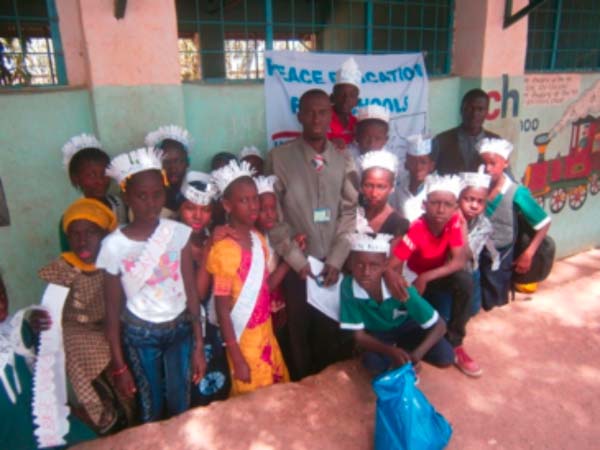 (Issue, Friday 27 March 2015)
Old Yundum Lower Basic School Thursday organized a daylong peace education festival among schools within its catchment area.
The forum was aimed at bringing students together to share ideas about the importance of peace education, and the value of their cultures.
Speaking on the occasion, Ousman Fofana, the national peace education and humanitarian officer Family Gambia, said his organization started in Liberia after the war.
There were some people who were trained under the UN and the American from Peace Education Foundation, who came to The Gambia to strengthen and build the capacity of Gambians, he said.
The organization is all about teaching peace education in schools, engaging in advocacy and awareness creation in communities, and in public and private institutions by giving them the message of peace.
Mr Fofona said they also have a radio talk show for community awareness, as well as to teach children on non-violent attitudes that they should possess in their daily activities in order to interact peacefully in their schools and in class.
According to Mr. Fofana, his organization is out to strengthen the peace that the country is enjoying, through nurturing children to discuss with them and share ideas on what peace is all about in our society.
He said their objective is to inculcate peace and the importance of peace to the children, and the sensitization exercise began at Old Yundum Lower Basic School, the first school to benefit from this awareness creation, and as time goes on they would extend the sensitization activity to other schools.
He said this was why they invited some schools to come to Old Yundum Lower Basic School to share idea with them so that they could familiarize themselves with this awareness creation and, in the future, the curriculum of the Ministry of basic and secondary education would put this into the school.
According to him, one of the expectations of this interactive forum is for the students to nurture what they learned in class, to inculcate it into their daily life.
He said some of the children do not have a better understanding of their indigenous languages; so with this awareness creation, they would be able to speak their language and have better understanding of their cultures.
Also addressing the students was the headmaster of Old Youndum Lower Basic School, Jerry Joof, who said the day witnessed another history making activity in the school, and it was the second of its kind to be organized in the school about peace education.
He said organizing this type of peace education was a step in the right direction, and further stated that peace education is another corner stone to health and development.
Read Other Articles In Article (Archive)