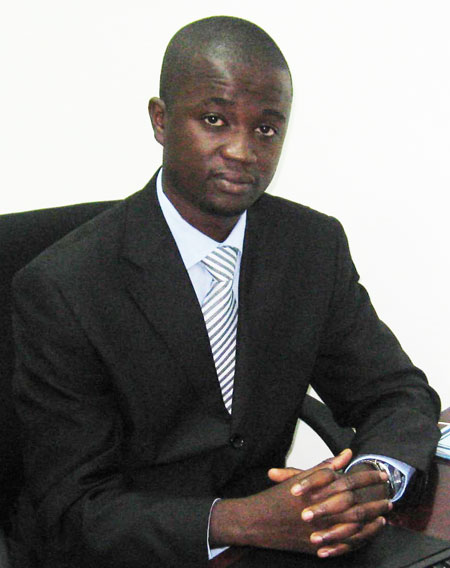 Oceanic Bank (Gambia) Limited has refuted allegations that the bank is deducting D50 from its customers, savings who converged at the bank's head office following an announcement by the Central Bank that the bank failed to meet the capital requirement of D150 million, and thus decided to wind up its operations in the country.
According to Thomas Kojo Quayson, Head of Corporate Communications, who spoke on behalf of the bank, the allegations are "baseless fabrications that are fictions and not facts".
Mr Quayson, who spoke to this reporter who visited the bank yesterday, also ruled out the allegation that the bank's winding up was due to administrative and operational failures.
"Since the bank started operations in this country, it was one of the most innovative and reliable financial institutions," he said, adding that the problem emanated from the bank's parent body in Nigeria.
"Let me start by clarifying that there are no customers storming this bank. What is happening is that customers have been asked to come and take their monies. All those depositors are being asked to come and collect their deposits," he told this reporter.
Oceanic Bank (Gambia) Limited, Kojo explained, has nothing to do with the bank's problem.
"But Oceanic Bank International in Nigeria had a universal licence, but has now decided to opt for a national banking licence, hence it could not operate subsidiaries," he stated.
He added: "The Central Bank of The Gambia has issued a press release and the release has made it quite clear that customers should come to the bank and collect their monies, but there has been no one storming the bank. And, further to that, all those who came to the Bank have got their money."
He revealed that Oceanic Bank "is very much liquid, and has paid all our obligations".
"All the customers who came to the bank were taken care of and, as you can see, the customers present here are not much," he asserted.
"What has happened is that Oceanic Bank (Gambia) Limited is a subsidiary of Oceanic Bank Nigeria Plc, which is based in Nigeria. Now, in Nigeria itself, the Central Bank is on a process of reforming the financial sector and, as part of those reforms, they gave directives to all the banks that they should opt for three kinds of licences.
"Initially, there was universal banking which means you can just get a licence and operate anywhere, and this bank was in various places in all parts of Nigeria. Others were in various parts of West Africa. Now the three categories of licence are Regional, National, and International and, for instance, if you want to be in the world over, you will go for International banking licence.
With the national licence, you operate within Nigeria and, if you opt for a Regional licence, you operate in a particular region in Nigeria. Oceanic Bank International which is our parent bank opted for the National Banking Licence as oppose to the International Banking Licence," Kojo explained.
This, he went on, has implications, because Oceanic Bank International has vigorously set up in other parts of the world and, having opted for that national licence, it means they cannot have subsidiaries in other parts of Africa.
He further revealed that the bank's capital is well over D100 million (One hundred million dalais) and it was well on course to meeting the requirement.
"People need to understand that the problem did not start here in The Gambia, but the parent bank in Nigeria. Oceanic Bank (Gambia) is a very viable bank. When this happens you look at the different indicators. The bank was very liquid; the deposit mobilization was increasing steadily in terms of quality assets and loans; we were giving quality loans; and we are a major player in the Gambian economy. Definitely, this is not a matter of systemic failure, but about a policy decision."
Read Other Articles In Article (Archive)