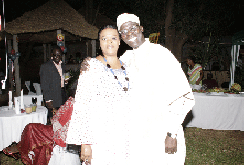 The
Gambia
recently joined the rest of the world to celebrate the election victory and inauguration as the 44

th

president of the
United States of America
,
USA
, of Barack Obama, who is also the country's first African American president.
The inauguration weekend celebration was organised by AfricAfriq promotions last Saturday at its head office on 50 Garba Juhumpa Road, SouthAtlantic, Bakau New Town. The programme brought together senior officials such as Honourable Fatoumata Jahumpa Ceesay, Speaker of the National Assembly, Mrs Sira Wally Njie, Deputy Managing Director of National Water and Electricity Company Ltd, Madam Mami Minteh, wife of SoS Yankuba Touray, Honourable Haddy Nyang Jagne, National Assembly Member for Old Jeshwang, Aunty Jobe of The Gambia Petroleum Company Ltd, Alex Dacosta Senior Communication Officer of UNICEF, Jali Saikou Saho a renowned Gambian Kora player, media practitioners and a host of other dignitaries.
The celebration was witnessed extensive entertainment ranging from traditional music to documentaries on the historic struggles made by African-Americans towards their liberty especially on the Black Panther movement which spelt out the essential needs of the black community in the USA.
In a brief interview with Entertainment shortly before the start of the programme, Abdul Aziz Willan, CEO of AfricAfriq, formerly known as Saraba night club, explained that the election of Obama is an historic moment and is worthy of celebration by all Africans and non Africans. According to him, the whole world can celebrate the victory and inauguration of president Obama.
Other speakers during the programme included Ms Cham, Assistance and Marketing Manager of AfricAfriq, and Honourable Jahumpa Ceesay, both expressed similar sentiments.
Read Other Articles In Article (Archive)