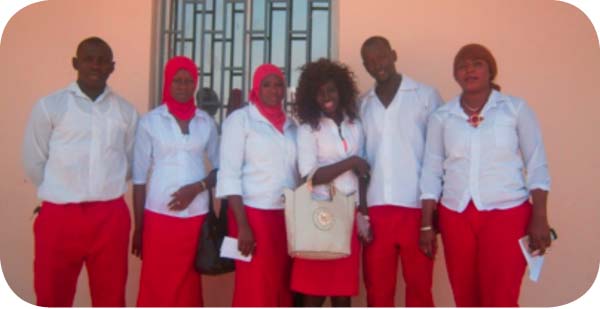 Nyimsi B. Promotion (Youth in Action) on Thursday donated 25 bags of cement to Divine Children Nursery School at a presentation held in the school premises at Paradise Estates.
The donation was meant to support the completion of unfinished structures in the nursery school.
The chief executive officer of Nyimsi B. Promotion, Manyima Bojang, said they decided to give a helping hand to the nursery school as part of the organisation's special benevolence in commemoration of its five years of existence.
Nyimsi Bi Promotion was set up in the year 2010 with the aim of providing job opportunities to youth to help them realise their hiding talents.The aims of the organisation are geared towards complementing the efforts of the government in creating more jobs for the youth.
Madam Bojang said the commemoration of the organisation's five years of existence will be in form of supporting "key institutions" and the society at large.
She said investment in youth is the most generous gift since it will help them to realise their potentials and hidden talents.She was quick to add that there is no better investment in youth apart from facilitating for them to have quality education at a conducive environment.
"This is why Nyimsi B. Promotion is here to support the future leaders," Ms Bojang said."And this is why Nyimsi B. Promotion deemed it worthy to help Divine Children Nursery School to show that we really want to support the future leaders; we are not only paying a lip service to it."
However, she pointed out that it is because of the hard work and commitment of the school that made her organisation to extend a helping hand to it out of many institutions that sought support from the organisation.
Members of Nyimsi B. Promotion can be found all over The Gambia operating salons, restaurants, fashion designs, and mini-markets and other business outlets, she said.
Receiving the items, the proprietor of the school, Pastor Samson A. Benedicta, said incidentally, just like Nyimsi B. Promotion, Divine Children School is also five years old this year as it was formed in September 2010.
"The school is just five years, so we are growing together with Nyimsi B. Promotion," he said.
He added that the objective of establishing the nursery school is to give quality early childhood education to the young leaders, the children of The Gambia.
The Pastor said the donated cements will go a long way in completing the unfinished classrooms at the school.
Read Other Articles In Article (Archive)