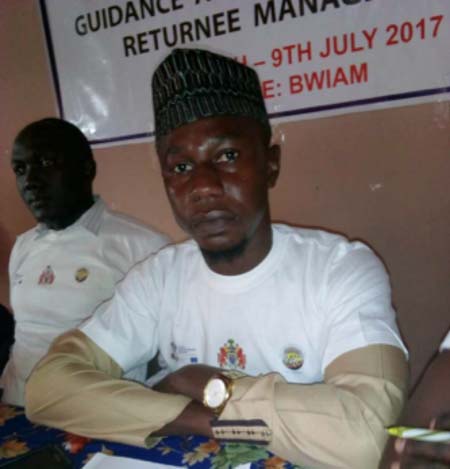 Dembo Kambi, chairperson of the National Youth Council (NYC), has pointed out that his office was ready to further engage government in providing adequate programmes and services to young people in providing alternatives to irregular migration.

Mr Kambi made the remarks on Wednesday at the Bwiam Lodge while delivering the opening statement of a five-day training for 25 young people drawn from all regions of the country and institutions on counseling and guidance for vulnerable migrant returnees.
It was organised by the National Youth Council and funded by Youth Empowerment Project.
According to him, they would continue to explore the concept of youth development by working with all stakeholders to create the enabling environment to integrate the returnees into societies.
They would further continue to explore every opportunity to ensure decent living conditions and continue to strive in empowering youth with skills that provide decent and acceptable living conditions to ensure the issue of irregular migration was history in the country.
He described irregular migration as suicidal and expensive, adding that the rate of unemployment in the country was as a result of lack of unemployable skills and required education.
"It is our responsibility as young people to support, advise, guide and counsel each other in making decisions that are not detrimental to our lives," he added.
He pointed out that all nations depend on their young people for socio-economic development.
According to him, there are very successful Gambians who have not even taken a step to the nearest neighbor Senegal, and as such, he called on young people to be ready to help themselves, their brothers and sisters as well as the country.
Dawda Samba, lead facilitator for the training, noted that a lot of young people are being repatriated, hence it was important they are provided with guidance and counseling.
"The Gambia should not be a country that only receives its own citizens but should be prepared to support them to reintegrate them back into our communities," he said.
He called for the training of returnees to ensure they are able to go back to communities and be of benefit to themselves as well as others who have had similar experiences.
These returnees, he went on, suffer great physical and emotional problems once they return as some were jailed and physically and sexually abused.
He said it was important they are taken care of together with their families who spent fortunes on these children to embark on the failed journey.
Read Other Articles In Article (Archive)