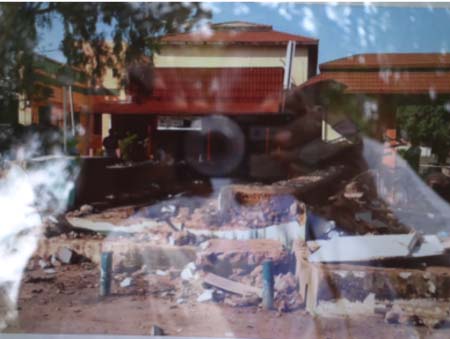 The building used as an office by members of the National Tourists' Guides Association of The Gambia, NTGA, located at Senegambia in Kololi has been demolished, this reporter can confirm.
A group of unidentified individuals embarked on a demolishing exercise on the NTGA building early Saturday morning, according to our sources.
Speaking to journalists in Senegambia, NTGA president Mustapha Jobe said the demolition happened in the early hours of Saturday at around 4 am.
He described the exercise as "illegal and done hurriedly", citing the fact that it was carried out outside "the official working hours in the country, which is from 8am to 6pm."
"We want the authorities to intervene in this crisis, because we want justice over our land. This institution was established in 1996 by an Act of parliament after government saw it necessary to end the 'bumster' menace," Mr Jobe added.
"We have been occupying this place for about 18 years now. Those behind this are the owners of Senegambia Beach Hotel who are very rich, powerful and influential. They are using our own institutions to sabotage government," he said.
He added that the crisis started in 2005 when Lebanese-Gambians together with the Italians bought Senegambia Beach Hotel.
It was the Lebanese-Gambians who started to claim ownership of the land, and when asked to provide a lease document, they failed to do so, according to Jobe.
"In 2011, we struck a deal with Gamcel to promote their goods and services in return for a sponsorship package. We informed the Gambia Tourism Board about it, but the management of Senegambia used its influence to write to GTBoard and Gamcel to say they owned the land," he went on.
The place was allocated to them by the government, but some individuals in high places said that theirs was an illegal structure, he continued.
"I think the tourism sector should be harmonised in a way to serve the interest of Gambians and not foreigners. It is high time that the authorities intervened in this case," he declared. 
EndFragment
Read Other Articles In Article (Archive)