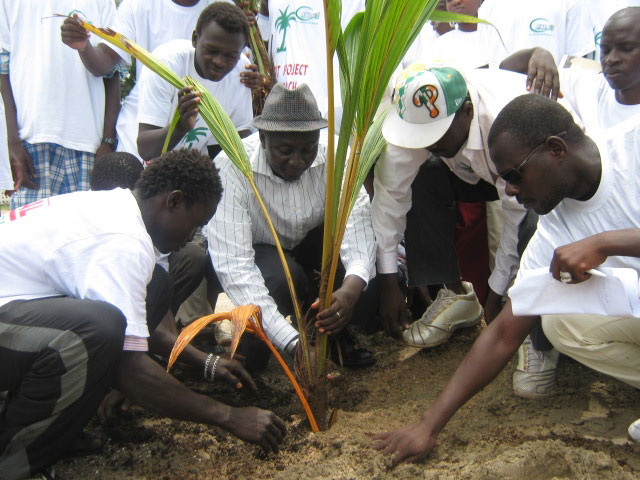 As part of its efforts to preserve and protect the coastline of the Banjul beaches, the Youths in Action Group with support and funding from Gamcel, the national GSM operator yesterday embarked on a massive planting of 200 coconut tress, along the Banjul beach coastline.
Speaking at the launch of the first phase of the project, Mr. Momodou J Suwareh, the Acting Director of the Intersectional Network of National Environment Agency (NEA), said that NEA is proud to be associated with the initiatives, geared toward preserving the coastal beaches of Banjul.
According to him, the President has great love and commitment for the environment, calling on other institutions to emulate Gamcel.
Mr. Suwareh revealed that "it is easy to plant but not easy to survive", while urging Banjul City Council to ensure that the planted coconut trees survive. He added that NEA would monitor the survival of the planted trees.
For his part, Mr. Lamin Fofana, a Senior Marketing Officer at Gamcel also spoke about the importance of tree-planting, more so coconut trees. He noted that Gamcel is an environmental-friendly company.
Mr. Fofana said their doors are open to any development-oriented programme or projects, adding that it's everyone responsibility to ensure the success of the planted coconuts.
David Dawda Jones, the representative of the Lord Mayor of Banjul City Council, said protecting Banjul from coastal erosion is a step in the right direction. He noted that it also marked the beginning of an alliance against coastal erosion.
Speaking earlier was the Assistant Co-ordinator of Youth Action Group, who said the project is meant to prevent the beaches from coastal erosion, adding that nine years ago the beaches were badly affected by erosion.
He spoke at length about the project and the brainchild behind the success story.
Read Other Articles In Article (Archive)